Writer's Commentary – Michael Uslan On The Conclusion Of Lone Ranger / Green Hornet
A Writer's Commentary: Michael Uslan talks the dramatic conclusion of Lone Ranger/Green Hornet #5, on sale now from Dynamite. Cover by Jan Duursema and interiors by Giovanni Timpano.
WARNING: SPOILERS FOR LR/GH #5! Page 1:
I fully appreciated the responsibility on my shoulders for the purely historic nature of this saga. I was not only to be the first writer in 80 years to be able to legally tell the story not only of the Reid family and the passing of the torch from the Lone Ranger to the Green Hornet, but also to tell the last adventure of the Lone Ranger and Tonto.
Page 6-7:
More and more, we have witnessed the aging Lone Ranger evolving from a code of no killing to an expanded code of no guns. I truly believe that if the Lone Ranger lived today, after all our terrible incidents of gun violence, this is the direction in which his believes might have gone. I also loved having him defeat his foe by lightly pushing him over the kneeling Ness.
Page 8-9:
Clearly the aged Lone Ranger has pushed himself too far physically in his last heroic effort. I wonder if his heart would have given out had events not unfolded as they are about to here. Next, I always thought that if a police officer named Kip ever decided to become a super-hero, it would be because he was once inspired by the Lone Ranger. Any Golden Age fanboys out there agree with me? Lastly, as a Clayton Moore fan, I really wanted to find a way to fit into this story a tip of my hat to him during the hardest phase of his life when his mask was legally removed from him and he was forced to make public appearances wearing sunglasses instead.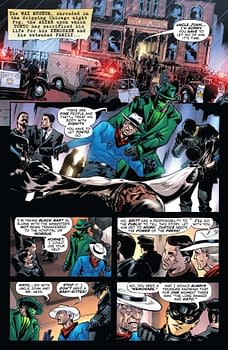 Page 12:
We made a boo-boo on this page. I won't tell.
Page 15:
From the very beginning, when the Lone Ranger and his grand nephew, the Green Hornet, finally got to ride together, I wanted to and planned to pull a switch so that the Lone Ranger would be driving the Black Beauty and the Green Hornet would be riding the great white stallion. I just think this is cool. And different. And unexpected.
Page 17:
With a snap and a crack, 88 year old Uncle John leaps off his horse and probably broke his arm and at least a rib. On top of his apparent heart issue, this was heroically beyond the call of duty and of the limitations of his aging body.
Page 18:
Seeing his beloved grand nephew about to be shot (on the heels of the violent death of Tonto), Uncle John launches his broken body at the gunman in a desperate attempt to disarm him. When the gunman loses his balance and grabs onto Uncle John, they both go flying off the bleachers.
Page 19:
REMEMBER I SAID SPOILERS!!
I actually shed tears as I wrote this page.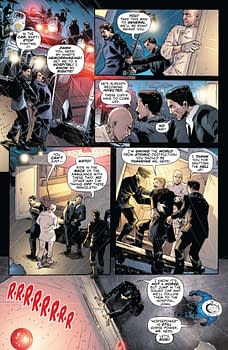 Page 20:
I asked Giovanni to draw about a dozen or more characters slyly into this scene. Fanboy fun for me!
Page 22:
This was the one and only way (and the only words) for me to show the official passing of the torch from The Lone Ranger to The Green Hornet.
Footnotes to History: I hope our readers have enjoyed my Footnotes to History which I have included in each issue. As a student of history, and a lover of research, I very much enjoy doing the work necessary to combine real events and people with our fictional characters. My hope is that my footnotes referencing the history as well as various assorted Easter eggs I have thrown in will enhance the reading of each episode of our saga. As a final note, I wrote this as a complete graphic novel in a three act structure like a feature film. I hope you will consider picking up the eventual trade paperback collection of this miniseries and reading it in one sitting in three acts, the way I intended it to be read.
Thank you for taking this important and fun ride with us. Now it's time we ride off into the sunset.