YouNeek Studios Creates Afrofuturist Superhero Crossover, The Oloris
Dark Horse Books and YouNeek Studios are publishing their first YouNiverse crossover with The Oloris: Heroes Will Unite, Volume 1.
---
Dark Horse Books and YouNeek Studios continue to present stories in a shared universe of African fantasy and superhero tales—the YouNeek YouNiverse. And now they are publishing their first YouNiverse crossover with The Oloris: Heroes Will Unite, Volume 1.
The continent of Africa becomes ground zero for a devastating extraterrestrial invasion from the Moon, forcing a group of heroes to band together in this new graphic novel from the massively talented team of Nigerian creators at YouNeek Studios. The newest graphic novel in the YouNeek line is written by Roye Okupe, with art and cover by Sunkanmi Akinboye, colours by Etubi Onucheyo and lettering by Spoof Animation.
The heroes from across YouNeek Studios' different titles unite for the first time in this epic crossover event! When an unknown anarchist unleashes an army of extraterrestrial androids on the continent of Africa, Malika—legendary warrior queen of the 15th-century West African Empire, Azzaz—must put together a team of "unlike-minded" heroes to respond before it's too late. Featuring appearances from other YouNeek YouNiverse heroes like EXO, Fury, and WindMaker, several YouNeek storylines finally converge.
The Oloris: Heroes Will Unite Volume 1 trade paperback will be available in bookstores on the 8th of August, 2023 and in comic shops on the 9th of August.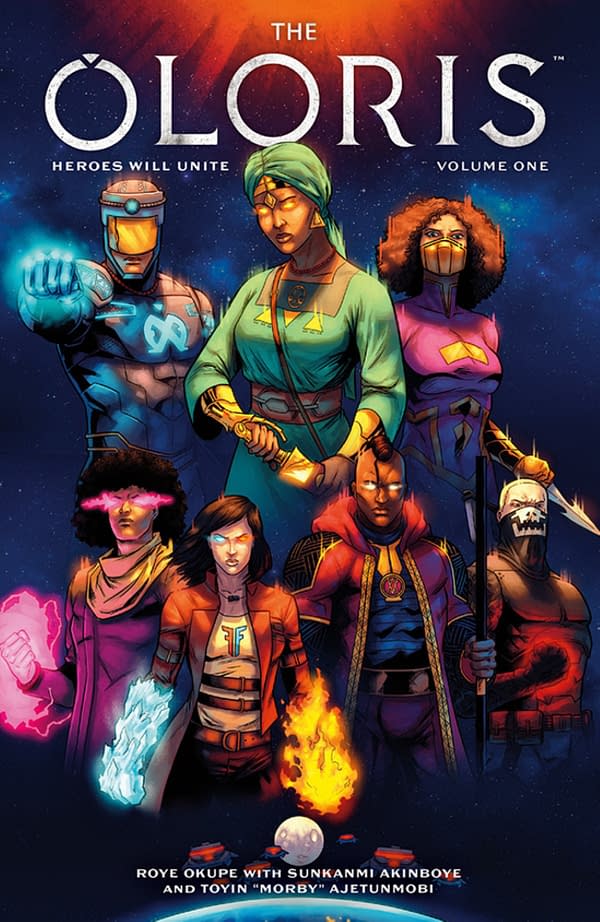 Since 2012, Roye Okupe has been building a universe of superheroes that spans centuries, centered around African stories and crafted by African creators. Here's how it breaks down so far.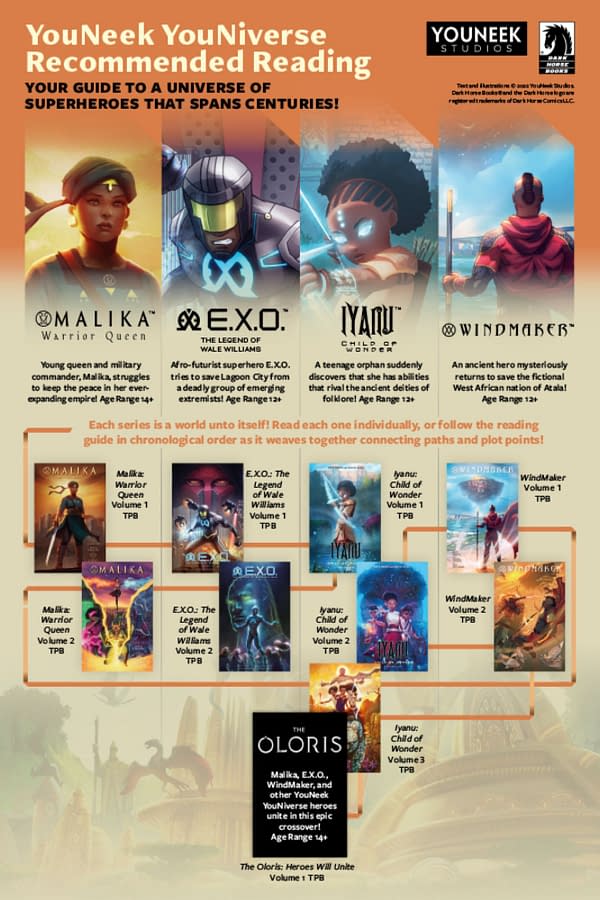 Malika: Warrior Queen Volume 1: Malika inherits the crown from her father, but in the process the kingdom of Azzaz is split in half. After years of civil war, Malika finally unites all of Azzaz, expanding it into one of the largest empires in all of West Africa—but expansion will not come without its costs.
Iyanu: Child of Wonder Volume 1: the tale follows a teenage orphan with no recollection of her past. Suddenly Iyanu discovers that she has abilities that rival the ancient deities told in the folklore of her people. It is these abilities that are the key to bringing back an "age of wonders," and Iyanu must begin her journey to save a world on the brink of destruction.
E.X.O.: The Legend of Wale Williams Volume 1 is an Afrofuturist superhero story about redemption set in the bustling metropolis that is Lagos, Nigeria. Wale Williams, who moonlights as the tech savy superhero E.X.O tries to save the city from a deadly group of emerging extremists, but first he must save himself.
Windmaker Volume 1, the West African nation of Atala is thrust into an era of unrest and dysfunction after their beloved president turns vicious dictator. With the country on the brink of civil war, the WindMaker–an ancient hero of the Ataliansmysteriously returns in what appears to be an effort to save his people.