Young Avengers Relaunch in 2020 – To Replace Champions?
It was promised last year. Marvel Comics #1000 initially had a much greater tease for a new Young Avengers series, but that was edited back before publication. But now we hear that yes, Marvel Comics is planning to publish a new Young Avengers series next year. Just don't expect Allan Heinberg and Jim Cheung, there's a brand new creative team lined up – I don't know who but I'm told to expect good things, and a bit of an impact on announcement.
I'm also told that the Champions will be retired without relaunch, but that Young Avengers may see some of the former champions join the team. Viv Vision and Ironheart are favourites for that as they mirror members of the Avengers…
Here's how they were looking for Marvel Comics #1000…. now, was that Wiccan and Hulking getting married? Enquiring minds… enquire.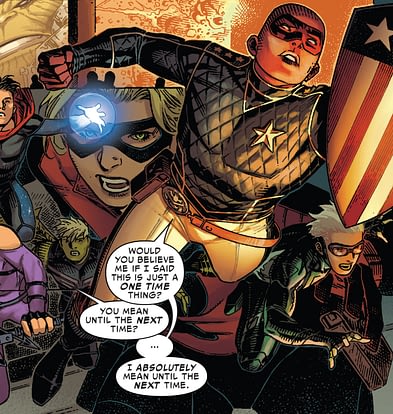 More Marvel gossip coming through the day… keep up with this Marvel Gossip Before NYCC handy dandy tag.