They've been teasing it all week with a serious of silhouettes. But now they have let it all hang out for the latest Dawn of X title starting in March, from Zeb Wells and Stephen Segovia, Hellions.
When the X-Men invited all mutants to Krakoa, they meant ALL mutants, even forgiving the past sins of some of their fiercest enemies. Chief among them was Mister Sinister who now tasks himself with finding purpose for mutantkind's most dangerous outcasts: Wild Child, Nanny, Orphan Maker, Empath, and Scalphunter! Also on hand to do Sinister's dirty work will be X-Men favorites Psylocke and Havok! Will they be able keep these murderous baddies in line or will the team's deadly missions have them succumb to their own sinister natures?
who's made a name for himself in high octane books like CONTAGION and SUPERIOR CARNAGE. "I am HUGE fan of Zeb Wells' work. The moment I read his HELLIONS pitch, I was blown away," says Segovia. "It's a new level of mutant stories and I was overjoyed and pumped to begin drawing it immediately. I can't wait for you guys to see the magic we're cooking up and I promise you'll enjoy the ride!"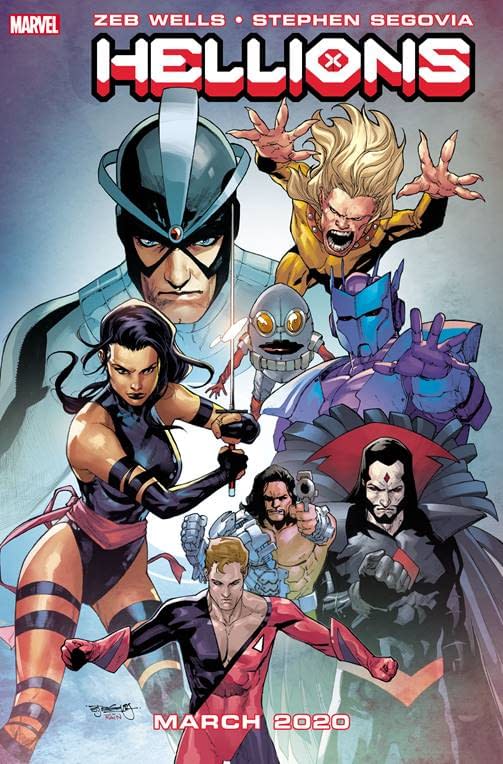 Previously, Hellions were originally students of Emma Frost and the Hellfire Club's Massachusetts Academy, and were rivals of the New Mutants. The original Hellions first appeared in New Mutants #16, created by writer Chris Claremont and artist Sal Buscema. They were mostly killed after an attack by Trevor Fitzroy and a squadron of Sentinels.
In New X-Men: Academy X a new group of Hellions were introduced, part of the Xavier Institute, the Hellions were one of several factions that the students were divided into including the New Mutants, with whom they had a rivalry. After the majority of mutants lost their powers in the Decimation storyline the Hellions were combined into one squad as the number of mutants was greatly reduced…
But with Emma Frost on the Quiet Council, and all mutants moving to Krakoa, this seems a more… grown-up version of the Hellions… though the presence of Nanny, Orphan Maker and Mr Sinister usually involves an obsession with mutant children.
Enjoyed this article? Share it!