Arcade1Up Debuts New Batman Monopoly For Infinity Game Table
Arcade1Up has revealed a brand new board game for their Infinity Game Table as they're releasing Batman Monopoly. The table was released last Fall and it came with a bevy of games that were both familiar and new, as well as being interactive and innovative as a fully automated touch game table. But we were kind of wondering how long it would be until the team started cranking out new titles to be added to the table once it had become a standard part of some people's homes. Now we know as we're getting Batman Monopoly.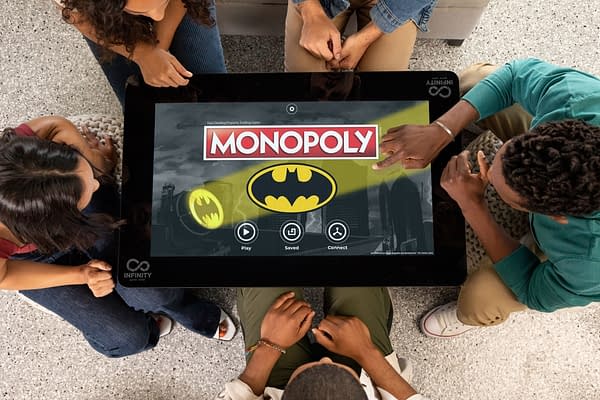 As you might suspect from the title alone, this brings the classic game of property buying and real estate to Gotham City as 2 to 6 players will choose different characters from the DC Comics universe and run around buying up supervillains and heroes as properties on the board. You can do local multiplayer or go online for this game as you have eight classic player tokens to choose from. The game comes with interactive 3D dice, an automated banker to prevent cheating, and the ability to change the rules and add house rules as you see fit. You'll buy or take part in auctions to collect all the properties of each color, then develop the set with Bat Signals and Wayne Towers in an effort to become the wealthiest player (or just the last one to go bankrupt). No official release date was given for the game, but we're going to take a wild guess that if they didn't say it was happening in the next few months, it'll probably be a holiday item.
Arcade1Up debuts the Infinity Game Table featuring digital versions of both classic and iconic board games like Hasbro's Monopoly, Scrabble, Trivial Pursuit, Chutes and Ladders, Candy Land, Yahtzee, puzzles, card games, coloring books, mini-games, comic books, and many more licensed and indie games to be announced in the near future! Available in two size options — 24" and 32" — both Arcade1Up Infinity Game Table sizes include an HD Touchscreen, personalized dynamic zoom viewing, responsive tactile feedback, Wi-Fi connectivity, online play, and an ever-expanding selection of downloadable games and interactive content via the app store.