Atari has announced a new RollerCoaster Tycoon title is coming to the Nintendo Switch in a couple weeks with RollerCoaster Tycoon Adventures. The game comes to us a little out of the blue, and we'll be seeing it a lot sooner than some may assume as it will launch onto the console on November 29th in Europe and December 13th in North America. Working with Bigben in Europe and AtGames in North America for distribution, this will be Atari's first official title on Nintendo's current console. Check out the details from Atari below along with the trailer.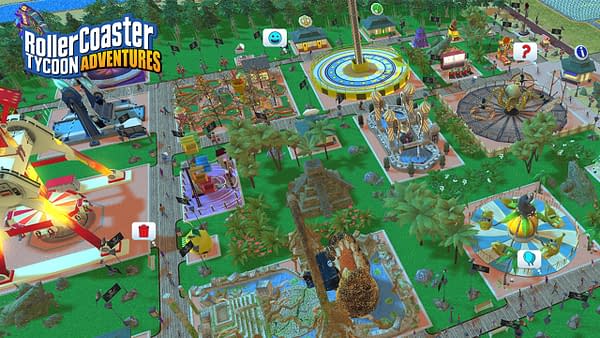 "This announcement illustrates our strategy," said Fred Chesnais, Chief Executive Officer, Atari. "It highlights our overall corporate plan – first our ability to produce high-quality games, second to outsource some segments of the value chain to key industry players, and lastly, it keeps us on track to reach our objective of profitable growth for the current financial year."

In RollerCoaster Tycoon Adventures, players have three distinct game modes to build their entertainment empire — Adventure Mode (a spin on the classic Campaign mode), tricky Scenarios and the open Sandbox. Over 120 wonderfully wacky rides, restaurants, and shops ensure parks burst with eye-catching action, and the intuitive coaster builder lets players create wild, death-defying coasters with ease. Four unique themed environments, along with water and terraforming options, ensure every park is distinct and exciting. A streamlined simulation and game economy allow players of all ages and skill levels to build the park of their dreams. Play it on your TV or on-the-go — becoming a RollerCoaster Tycoon has never been easier!
Enjoyed this article? Share it!