Back O' Beyond: Tales Of Blood & Salt To Crowdfund In Q1 2023
Back O' Beyond: Tales Of Blood & Salt will be getting a Kickstarter campaign as Fabled Games seeks public funding to get it started.
---
Fabled Games have announced their new title, Back O' Beyond: Tales Of Blood & Salt, and will be seeking crowdfunding sometime in Q1 2023. The game is designed to take you back to the golden age of piracy as you and up to three other players will sail the seas trying to become the most infamous pirate of them all. The game will launch a Kickstarter to get initial funding to produce the game, so right now, all we have is the info below on what to expect from it. We'll see if they manage to produce the game by the end of the year.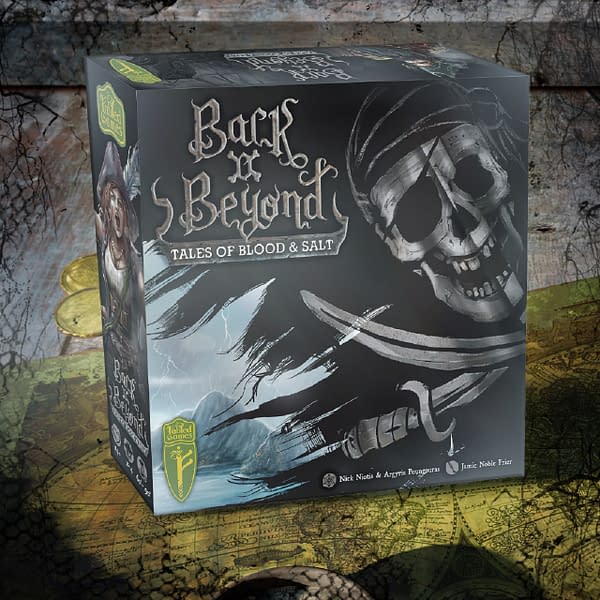 "Deep within the vast blue and grey of the sea and the endless storm, lies a long-forgotten land. Stories tell of a safe passage within the roaring belly of the ocean. Legends tell that, hiding behind rocks, clouds, and the unforgiving force of the sea, lies an island. An island that pirates call "Home". A place where dreaded Captains spend their downtime trading in the marketplace, drinking spiced rum in the tavern, testing their reputation at the Council Hall, or mingling in mischief in the Back Alley. Seek infamy and become the most dreaded pirate captain! Create a powerful ship by carefully selecting and managing your crew, do battle and plunder ships full of loot, and make a fortune that no living man has ever made! And when you're tired, come back to the only land you feel is safe for you to rest and get ready for your next adventure. What treasures will you find? How many ships will you capture? Will your crew look up to you or start a mutiny? Will the sound of your name bring fear?"
"Back O' Beyond is a highly thematic mid-weight 2-4 player euro game that takes around 30 minutes per player to complete, with games averaging 90 minutes. As a pirate captain and your goal is to become the most renowned pirate by having the most infamy points at the end of the 5th round. Each round consists of 4 phases. Each round begins with the Start of the Round. All preparations for the round happens: revealing new contracts that the pirates can compete for, adding more ships to capture, and filling the tavern with more crew members. Next is the Preparation Phase. Players will perform various actions by spending time on the island, which serves as one of the main resources you use in the game. By doing so, and for the appropriate cost, they will recruit new crew, repair or upgrade their ship, sabotage the other players and so much more, thus creating a dynamic gameplay."