This week, Bethesda Softworks revealed that they will be holding QuakeCon 2020, only this year it will be QuakeCon At Home. With COVID-19 causing organizations across the globe to change their plans, Bethesda has decided they're not letting go of their event and canceling plans, but instead, have changed things so that everyone can attend. The event will take place from August 7th-9th, 2020, and will feature several activities that people can take part in from the comfort of their own home. The company released some of the details of what they have in store this year, which you can read below, with more information on the way in the weeks to come.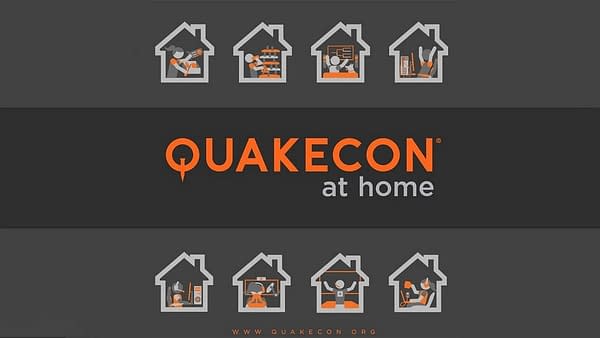 Global Super Stream – QuakeCon at Home will feature a weekend packed with streamed content from around the globe, kicking off on Friday, August 7 at 11:00am AM CST with Bethesda's QuakeCon Digital Welcome. The event schedule will feature round-the clock programming with special influencer streams, surprises, and our very own Bethesda Community teams from around the globe – all streaming from home in support of charitable causes. Stay tuned for more info, including the full stream schedule, in the coming weeks!
QuakeCon Twitch Team – Playing and sharing games with friends in the BYOC is the core of QuakeCon, and this year the global QuakeCon community will unite and connect for the first time through the official QuakeCon at Home Twitch Team. The Team will celebrate QuakeCon, play and share games, and help raise money for the QuakeCon-supported charities. Some players will be featured on the QuakeCon Twitch Team page.
Esports Tournament – It's not QuakeCon without a tournament full of frags, so that too has gone virtual for 2020. The 2019-2020 Quake Pro League season will conclude at our Quake World Championship, Sunday, August 9 at 4:00pm CST. From the comfort of their own homes, the top 24 players around the globe will compete to win their share of $150,000 Prizing and the title of Season Champion. Quake fans can watch online live via the Global Super Stream – stay tuned for details.
Charity Initiatives – Raising money for charities has been a key part of QuakeCon for years, and attendees have made a huge impact for local, national and international groups. We are excited to continue this legacy in both a global and local way. QuakeCon players will be able to donate to organizations directly from the official QuakeCon at Home Twitch stream, including Direct Relief, UNICEF, NAACP Legal Defense Fund, and The Trevor Project.
Animal Charities: Everyone will miss the good doggos who visit the Exhibit Hall every year, so this year we are bringing the furry fundraising global. QuakeCon at Home will have new, exclusive "Dogvahkiin" and "Catodemon" t-shirts for sale, with 100 percent of the profits going to both our long-time Dallas animal adoption partner, Dallas Pets Alive, as well as FOUR PAWS, a global animal welfare organization.
Enjoyed this article? Share it!