Up until now, we've only seen bits and pieces of A Plague Tale, but never really got a good crack at the game. That changed at a special event I'm at. This week I've been in Paris, invited out by Focus Home Interactive to check out their What's Next event where they show off the next line of games and updates coming for the remainder of the year. The first game we got a chance to try out was a demo of A Plague Tale by Asobo Studio, which primarily focuses on a young woman and her younger brother on the run from an Inquisition, while a deadly sickness is passing over the land killing people and making everything rotten. At a certain point, villagers in neighboring towns believe you may be the cause, having you flee and take on your attackers and accusers in the process.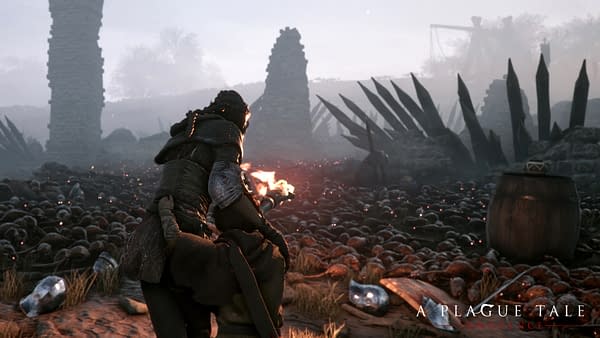 The story for this game is quite interesting as your primarily playing as the young woman with assistance from her brother in certain situations. I primarily had to fight off people with a sling and some rocks early on in the game, both as a weapon and a distraction as I snuck around Solid Snake style. The game is actually pretty awesome and I got a kick out of what I was able to do with her, but there was a bit of a learning curve when running from danger. Also, the darkness and sickness covering this land is weird and I know there's bound to be a twist ending coming, but its intriguing enough to make me want to see where it's all going.
A Plague Tale will be released on May 14th for PC, PS4, and Xbox One. Enjoy the pictures and trailer for the game below.
https://youtu.be/TKwTUEbcti0
Enjoyed this article? Share it!