EVE Online Adds The New Path To War Update This Week
CCP Games has a new update for EVE Online out now, as the Factional Warfare campaign continues in Path To War.
---
CCP Games has given EVE Online a brand new update that brings a little change to the game as players will discover the Path To War. The update isn't too massive, but it definitely adds some new features and storyline elements that will change the course of the game a bit. First off, you'll have a Direct Enlistment feature to join the various Factional Warfare activities without leaving a corporation or alliance. They've also included the ability to slap corporation or alliance emblems on all ships, no matter what type you might be flying. The update also adds everything needed for the Shadow War event, in which you will be stealing technology from rival empires on behalf of whoever you're currently aligned with. We have a few snippets below taken from their latest blog, as the update is now live.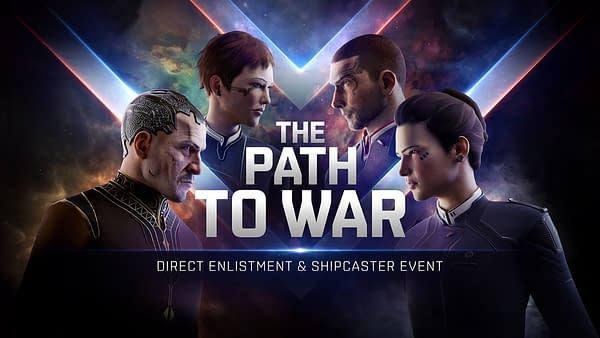 "Following the Empire Frontiers event last year, the big 4 of New Eden find themselves at different stages of advancement in the race to take advantage of Triglavian technology, and that race continues now with your support! Stellar transmuter and transport relay technology can now be used to create interstellar shipcasters, with success in this endeavor granting an empire the ability to project ships from their HQ system directly into Factional Warfare conflict hotspots! Research Data Node, Waylaid Courier, and Besieged Laboratory sites present opportunities to hack, fight, and salvage for secret research fragments that can be used to manufacture completed datacores that can then be delivered back to your empire for rewards and progress points."
"Each of the sites are aimed at different classes of ship, with Research Data Nodes allowing entry for Tech I and navy frigates, Waylaid Courier sites allowing up to Tech I and navy destroyers plus Tech II frigates, and Besieged Laboratories allowing entry for ships up to battlecruiser and navy battlecruiser classes plus Tech II cruisers. Be wary, though, as all of the sites contain hostile NPCs to defend against. In addition, those who are out to steal the best loot from under your nose will be putting themselves in harm's way, as these sites will give suspect flags to anyone entering them. This will allow other players to engage them (and you) in combat without fear of CONCORD intervention in highsec!"