[rwp-review-recap id="0"]
Styx: Master Of Shadows was an awesome title to come out back in 2014. It borrowed elements from games like Assassins Creed and World Of Warcraft to make an interesting stealth title and a nice prequel to the Of Orcs and Men series. At the time, it received some mixed reviews as many agreed it was good, but some people weren't sure what to make of it. Two and a half years later, we now have the sequel from Cynanide Studio and Focus Home Interactive with Styx: Shards Of Darkness.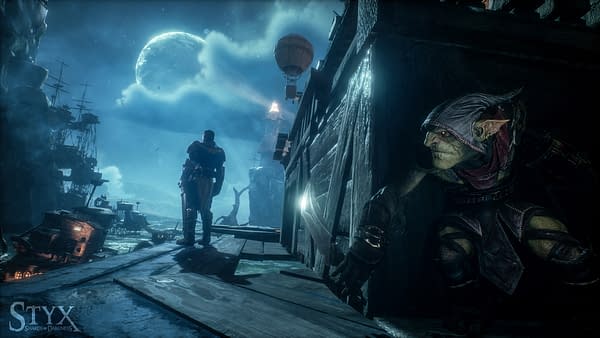 The game picks up a short time after the first one, with a primary focus on the dark Elven city of Korrangar. The high priestess Lyssril has an alliance happening with the Dwarves while also plotting to be invincible by harvesting quartz. You may think the story plays a vital role, but in reality, it doesn't. Your main focus will be on Styx. If you recall to Master Of Shadows, Styx had a bit of an addiction to liquid amber that was sought after in the first game. So of course, now he's grown an addiction to quartz, which he will obtain by any means necessary. There's a much wider game plot happening all around you, which any other hero would be in the thick of. But for Styx, his personal obsessions are what fuel the game and progress the true story: you're own personal wealth and satisfaction.
The gameplay is a mesh of styles, but your primary goal is stealth. In fact, the game will punish you and sear at you for screwing up by rushing the objective or getting caught. You're a green goblin, not the most obscure looking creature walking in this universe, so you don't get the option of playing a the game like Hitman and simply taking other people's spots or blending into the crowd like nothing's happening. Everything you do has to be slow and methodical, well-timed with a hint of sly. They payoff of feeling like the best thief and assassin possible without being stabbed at all is worth it, trust me. You'll have a variety of items including a dagger, darts and potions to help you along the way, but the majority of your movement will be in the shadows.
Aside from the obvious enemies you'll be dodging, the controls are probably your greatest foe. Climbing ropes and swinging from ledges has a rough feel to it, and getting it wrong will almost always cost you your life. Sliding around and following behind enemies works fine, but it feels like an incomplete package when you put everything together. You have the ability to clone yourself again, with the added caveat that you'll lose less health than before when your clone dies. The clones help in some situations, but in others they end up just getting in the way and blowing your cover, so you'll have to utilize them wisely.
As you complete missions and goals, you'll be able to level up your character in specific traits and skills like alchemy, cloning, stealth, killing and perception. The skills are done in a tree-like system with different areas branching out as you grow more powerful and some areas requiring a certain branch be completed before it can be unlocked. But be warned, just because you unlock a new skill doesn't mean you're automatically good at it. You'll need to hone your craft as you make your way through each level and get a feel of how best to use them. Your overall performance is derived from how many skill points you get, and you usually get more by doing everything perfectly. That doesn't mean to say you won't get any by being sloppy, it just means you won't receive as much.
Kind of like Assassins Creed or Breath Of The Wild, you'll have "amber vision" which allows you to scan the area for what you need and ways to combat everything. You'll discover there's always a couple alternatives as your disposable as you make your way through each level. Speaking of, these are some well designed levels with some grand attention to detail that help bring the world to life. The characters may not have the greatest dialog, and the game falls into the sad trope of people "going about their business" even after being on high alert—but their look and reactions are a large improvement from the previous game. Styx: Shards Of Darkness is a great stealth game, but it lacks in storytelling and the controls can become frustrating if you're unable to master them. A lot of people may be turned off by the idea that you can't improv your way to success like you can in other stealth games, but I think it adds an extra challenge into a genre that allows gamers to be lazy. How many assassination missions have you pulled off in your life despite being seen by almost every security guard on sight? This game removes the haphazard option and forces you to think. It's well worth playing, but be forewarned about climbing ropes and dangling from cliffs: no one is perfect.
[rwp-review-ratings id="0"]
[rwp-review-form id="0"]
Enjoyed this article? Share it!