Konami Releases Details on the First Three Yu-Gi-Oh! Sets of 2019
Before the weekend kicked off, Konami released a few details of the next three upcoming sets for the Yu-Gi-Oh! trading card game for 2019. Starting in January, you'll be able to buy the next additions to the game, Legendary Duelists: Sisters of the Rose, which we have the packaging as well we the full description of the expansion below. In February and Marck you will be getting Savage Strike and Savage Strike Special Edition, respectfully. We'll tell you about the other two sets later on when we get some images of them, but for now, enjoy what's going to be on the way in three months.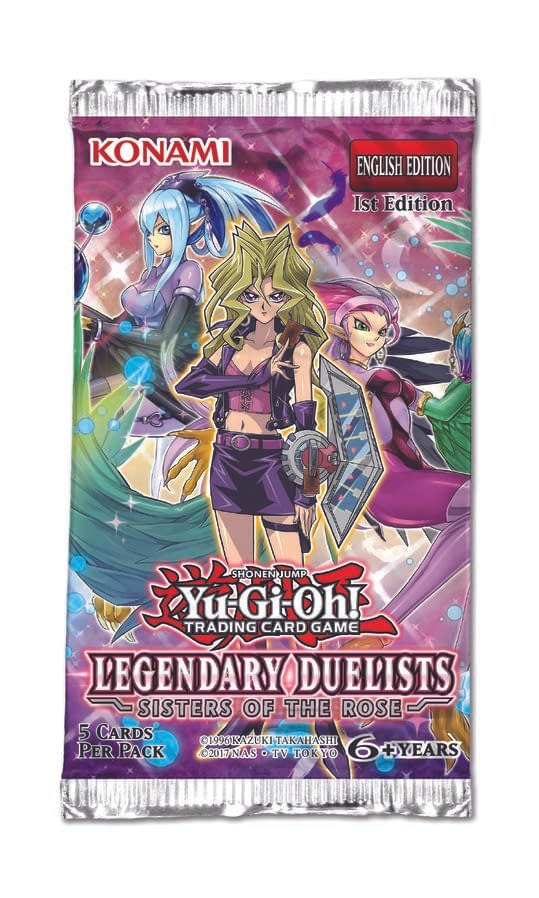 Legendary Duelists: Sisters of the Rose debuts brand-new cards inspired by past heroines of Yu-Gi-Oh! like Mai Valentine and Akiza Izinski. Mai is making her second appearance in the Legendary Duelists series with brand-new cards for her Harpie Lady strategy from the Duelist Kingdom tournament. Mai's strategy was all about duplicating Harpies with Elegant Egotist to Summon Harpie Lady Sisters, and Legendary Duelists: Sisters of the Rose has brand-new cards to help you multiply your Harpies and reward you for playing with the classic Harpie Lady Sisters card!

Alexis Rhodes' Cyber Angel strategy from Yu-Gi-Oh! GX returns! Cyber Angels are Ritual Monsters with battle-focused abilities. Legendary Duelists: Sisters of the Rose introduces a new Cyber Angel that forces your opponent to fight your monsters fairly by letting you destroy a card they control if they target a "Cyber Angel" Ritual Monster with a card effect. Once you've made your opponent commit to battle, you can play a brand-new Continuous Spell that makes it impossible for your Cyber Angels to be destroyed in battle and lets you Ritual Summon during the Battle Phase!

Akiza's deadly Black Garden Field Spell chokes the Attack Points out of any monster Normal or Special Summoned while it's on the field. Legendary Duelists: Sisters of the Rose allows you to create a devastating strategy built around this Field Spell, Akiza's signature Black Rose Dragon Synchro Monster, and as many powerful Plant-Type monsters as you can get your hands on!