Marvel May Have Possibly Given Away The Title Of Their Game With Square Enix We're going to travel down a small rabbit hole here, but bear with us, we may have found something good. On Tuesday, Marvel filed for a bunch of trademarks for the term "Marvel Rising." It's your standard affair whenever a company is planning to do something awesome with a new IP or brand, but this time around Marvel filed for the trademarks in categories they don't normally file them in. Specifically: cosmetics, household items, and video games. Below is one of the nine trademarks filed pertaining to gaming.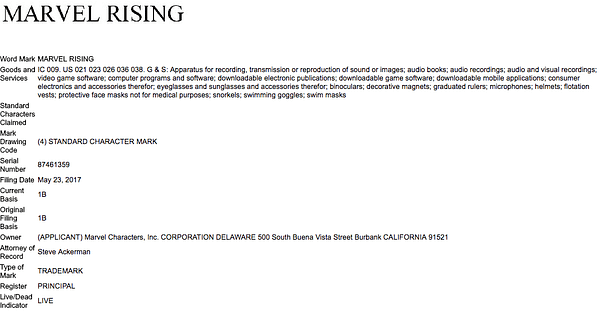 So why is this important? Back in January it was announced with the trailer you see below that Marvel and Square Enix are working on a video game together. But the game had no title or release date, it simply had a hashtag. #Reassemble. But Marvel and Square have done nothing with that branding since, no new news has come out, and nowhere are there any trademarks being filed for anything along the lines of "Avengers Reassemble." Could it be that Marvel just tipped their hand and showed everyone the title of the game? Until the trademarks go through we won't know for sure, but considering a gaming one is in the mix when it usually isn't for Marvel, there's a good chance this is right.