Oddworld: Soulstorm Supercharged Quirkiness Comes To PS5, PS4
Oddworld Inhabitants' latest adventure in Oddworld: Soulstorm is coming to the PlayStation 5 and PlayStation 4 as console exclusives. The trailer looks to brings the familiar 2D game experience with enhanced visuals that transition the cinematics and play seamlessly. "We are using the power of PS5 to push Oddworld: Soulstorm toward a cinematic visual and storytelling leap over our previous titles. The game's scope and scale are larger than we've tackled before," said Lorne Lanning, Co-Founder, Oddworld Inhabitants in a statement. "Its technical achievements are capable of delivering stunning graphic fidelity and advanced 3D audio, and combined with its advanced DUALSENSE Wireless Controller, PS5 will enhance our storytelling and artistic abilities to create a deeper emotional connection to the Oddworld experience for fans to enjoy." Soulstorm is the follow up of New 'N' Tasty (2014) following Abe in his heroic epic. He is described as having undergone a transformation from being a clueless Mudokon cog, literally about to be chewed up by the Glukkons' mega-corporate machines, into an unlikely hero that rises to become a beacon of hope.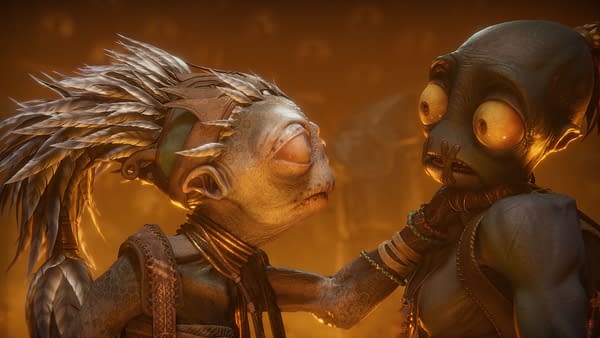 "The story arc of Abe's transformation, and how that transformation affects change in large and small ways, and how his ripple effects can touch others and inspire them to take action in ways that will aid his journey," Lanning said. "SOULSTORM is the true sequel we have always wanted to make that would put that struggle into a more devious and dangerous construct for Abe and the player to decrypt. While it would be a wonderful world if the common consensus could decide some justice that needed to take place and that it would happen overnight, but when does life actually unfold like that?" Soulstorm retains the familiar mechanics seasoned Oddworld players. The game includes new features like the Scavenger's Economy System and crafting to help Abe along in his journey. It will also feature leaderboards, trophies, and badges for added replay value. Oddworld: Soulstorm will also be released for the Epic Games Store for PC.