Call Of Duty: Black Ops 4's Days Of Summer Event Kicks Off Today
Activision and Treyarch have officially kicked off the Call Of Duty: Black Ops 4 "Days Of Summer" community event today with a ton of bonus content. You can check out the full details here, but the short version is you're getting a special community challenge, a new map with a view of the ocean, a new Capture The Flag mode, a bunch of new content for Blackout, Killcam perks, an Outrider's drone, a new attack helicopter, a new Blackout mode called Ground War, new Zombies mode content, and new tiers and black market geat. I mean, they basically gave you a bunch of stuff to tide you over this summer until we start talking about Modern Warfare again. Enjoy all the fun in the sun!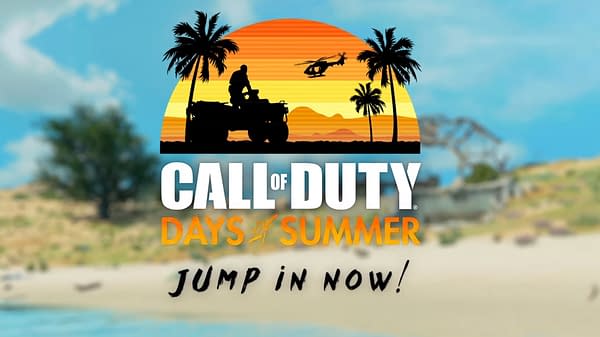 Grav Community Challenge

A fun challenge for the entire Black Ops 4 community is currently under way! If you're wanting to utilize the Grav assault rifle in your Multiplayer games, the Grav Community Challenge will give players the opportunity to earn it for their arsenal. 15 million matches (across Multiplayer, Zombies, and Blackout) to earn the Grav. The challenge starts first for PlayStation 4 and begins a week later for Xbox One and PC.

New Multiplayer Map: Grind

We're, like, totally stoked to let you know the Call of Duty: Black Ops II map Grind is back and available – for FREE – to all players! Set in a Venice Beach skate park battle through the pro shop and around the half pipe to shred the competition. Grind is a smaller map, so you'll have plenty of chances for some gnarly firefights.

New Multiplayer Game Mode: Capture the Flag

The classic Multiplayer mode, Capture the Flag, returns to Black Ops! Each team fights to defend their flag while simultaneously working to capture the enemy flag and return it to their own base.

New Blackout Content:

Environmental Changes: Though the Hydro Dam is still out of commission, the flood waters have receded, and the areas previously damaged by the waters are under renovation. Hijacked, the luxury boat, is moored near Nuketown Island's cove, and the entire map is now bathed in sunlight! It's midday, there are blue skies, there's summer foliage with greenery and flowers, and there's a party atmosphere across much of the map:

Check out BBQs, some lawn ornaments, party balloons, pool floaties, as garden parties begin in earnest. Down by the beach, there's camping, umbrellas, and towels draped over the sand. Not all of this is purely cosmetic either; there are some light summer activities to enjoy:

Coolers: Check the party areas for coolers; they might contain paint cans and character-unlock items!

Water Balloons: Grab a 20-balloon stack as equipment and use it to deal some light damage.

Quacknarok: The zombies are dressed in duck floaties for some summer fun.