Pac-Man Will Be Getting Special Sake Bottles For 40th Anniversary
Another announcement for Pac-Man's 40th anniversary is that the game will see some special sake bottles released in celebration. The news comes from 4Gamer, as Tears and NAVIO announced that the two companies would jointly release a special set of bottles featuring the iconic character and all four of the ghosts in metallic bottles colored to match each one. These will apparently be the first in what they're dubbing the "Game Legend Sake Series", which sounds like they'll be looking to do other anniversary celebrations in the future, especially if these sell well. Each bottle contains 720 ml of liquid, though they have not discussed what type of sake it will be, what the ABV% will be, or if they intend to throw in any kind of special flavor or simply be traditional.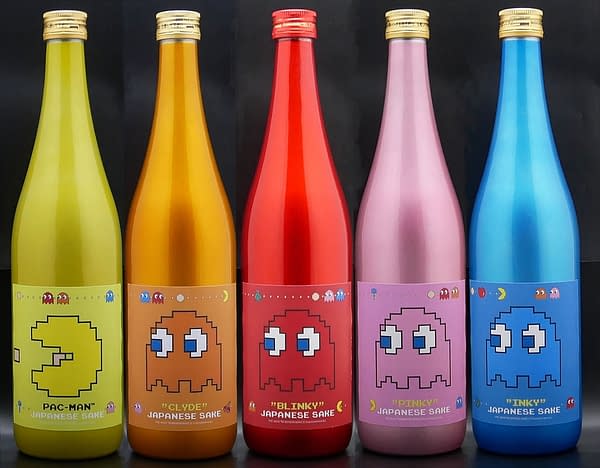 Along with these bottles, there will also be a special Hosokawa Takashi & Pac-Man Sake, which will be a collaboration product with enka singer Takashi Hosokawa to celebrate its 45th anniversary. You can see the original label designed by Hosokawa and Pac-Man below, along with how the labeling will look on both that special bottle as well as all of the metallic bottles. As far as getting your hands on some of these, that will be a little tricky. According to their own PR about the bottles, the plan to sell it starting on July 4th, 2020 at liquor stores nationwide in Japan, as well as through the Miyake main store (which is the brewery originator), and oddly enough, through Tower Records' website. Yes, that Tower Records, which hasn't had a physical store since 2006. We're guessing plans will change down the road and they'll expand, as we're sure having Pac-Man sake on the shelves is something we'll end up seeing at local liquor stores in the states somewhere down the road.