Posted in: Games, Krafton, PUBG Battlegrounds, Video Games | Tagged: Krafton Inc., PUBG: Battlegrounds, PUMB
---
PUBG: Battlegrounds Reveals Details To Update 24.1
New details emerge about the 24.1 update coming to PUBG: Battlegrounds, as we get map improvements and more gear access.
---
Krafton Inc. revealed new details to the next update coming to PUBG: Battlegrounds, as players will see Update 24.1 hit the test servers on Friday. The two big additions coming out of this are a map change and a modification to tactical gear. First, the gear will be changing to have its own "carrier" instead of taking a weapon slot. The plus side is you now have an empty slot for another gun, the downside if you'll need to switch to another menu to deal with the gear. Meanwhile, Vikendi is getting more of a cosmetic upgrade, so the place looks more like a vacation spot instead of a village in the middle of some dead plains. We have more info below as the update will go live on June 14th for PC and June 22nd for consoles.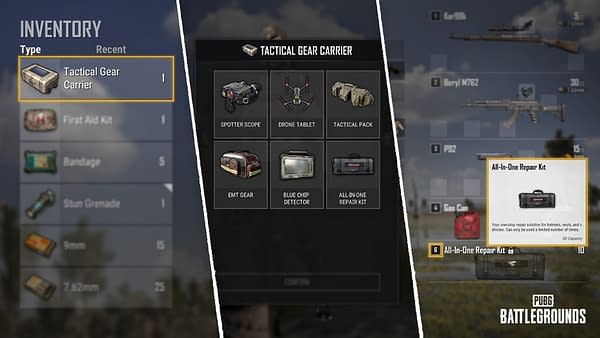 Pick Your Speciality Tactical Gear
Tactical Gear will no longer use a weapon slot and will now have a dedicated "Tactical Gear Carrier" slot of its own instead. With this change, the idea is to allow our Survivors to better define their role on the team – whether they want to carry EMT Gear and function as a medic, pack a Spotter Scope or Drone to gather intel, or fix armor and vehicles with the new Repair Kit. And instead of procuring that gear in the field – since it's no longer there to be found – you'll pick your preferred option from the Carrier after you drop into each match. We're making some adjustments to these items to keep them all competitive with one another, so review the patch notes to get a handle on the specific tweaks.
Players will start every match with a zero-weight Tactical Gear Carrier in their Inventory.
After dropping in, select the Carrier in your inventory to open it and choose your Tactical Gear.
Those options include: EMT Gear, Tactical Pack, Spotter Scope, Drone, Blue Chip Detector, and the Repair Kit.
The Tactical Gear you choose is equipped into a new, sixth slot for the rest of the match.
Tactical Gear doesn't show up in deathboxes, and Survivors who return to the match via Recall lose their Tactical Gear and don't receive a new Carrier.
Improving Vikendi In PUBG: Battlegrounds
We're making some adjustments to Vikendi based on feedback from players, with new terrain features that provide cover, fresh adjustments to item and vehicle spawns, and tweaks to both Blue Zones and Blizzard Zones. These changes should make Vikendi an even better wintry Battle Royale experience during the hot summer months.
Select locations outside of major cities have received new objects and ridgelines to provide new sources of cover, giving players caught out of position a chance to fight back.
Vikendi will now use the new Initiative Blue Zone ruleset with decreased times for each phase to help accelerate matches and provide faster-paced action.
We've noticed Vikendi matches feature more high-value items and weapons, so we're tuning down the spawn rate of these items to provide a more balanced experience that is closer to ranked matches.
In response to player feedback that the Cable Cars were too slow we've given them an 80% speed increase, so that riders feel less like sitting geese.
---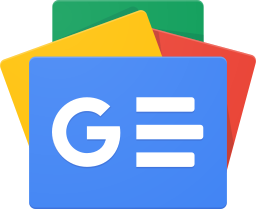 Stay up-to-date and support the site by following Bleeding Cool on Google News today!