Review: Die Hard Dice – Spellbinder Sovereign Metal Dice
One of the more recent sets of dice we've received to review came to us from Die Hard Dice as they sent us another group of their cool metal sets. The specific set we got this time around is from their new collection of Spellbinder Dice, a set where they mix colors up to create unique patterns and designs that aren't your average solid-color metal groups. So how does this one look and feel compared to others in the past? We pulled out a rolling tray and took them to a gaming night to test them out in the heat of the battle.
So first off, let's look at this design. You have what appears to be a slightly lighter Ruby Red mixed in with a slightly darker shade of Amethyst Purple. They're not straight on red and purple, they're shades that have been raised and lowered to compliment each other so that the mix, while noticeable, is pleasing to the eye. This particular color scheme for the set is called Sovereign, which for me felt like the perfect kind of dice to match with the wizard character I'm playing in D&D. I enjoyed the look of these as they rolled across the tray and glimmered with that platinum finish lining on the edges and the numbering.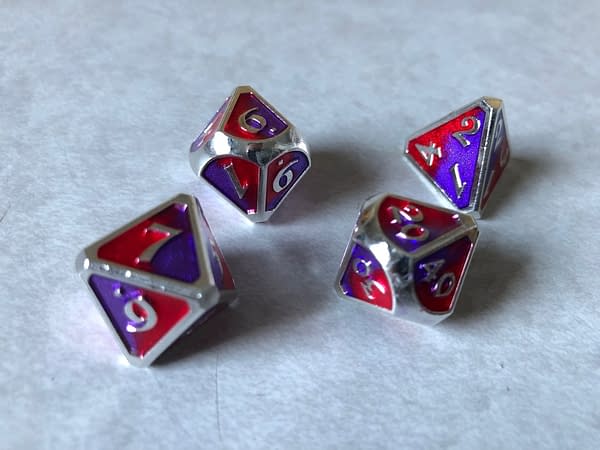 As far as the shape goes, these aren't the usual set of dice the company makes as they have softened corners. A lot of the metal dice we get from the company have pointed edges, which I like but are also very pointy and can draw blood. You just have to be careful with them. But as you can see from the photos here, which shows up better on the D6, D8, and D4, the tips are softened up so they have more of a rounded stop to them. Not as pointy, and roll a little better so you're not dealing with cocked dice. As to how well they roll, these are some pretty balanced dice. But the company has pretty much found a way to perfect the balance with the metal they use so every roll is fair. I will say, I got much higher numbers out of this set than others we've reviewed, so either I was lucky that night or I found the knack to rolling them.
Overall, I thought these were an awesome set of dice. Die Hard Dice always go to such efforts to make whatever set you get to stand out, and this is no exception. As always when it comes to gamers, aside from the look, it's always the price that drives the purchase. This particular set sells for $55. A little above some others in their collection, but we're guessing the added cash is going toward the look of them compared to ones with a single color. If you're looking to mix up your collection, you can't go too wrong with these.