Uncovered "Legend Of Zelda: Ocarina Of Time" VHS Shows Beta Footage
A gem of old-school Nintendo popped up over the weekend as an old VHS tape revealed beta footage from The Legend Of Zelda: Ocarina Of Time. This in itself is a rarity as once upon a time, there used to be a line of videos from a few different companies in the '90s that would give you a preview of the game. There weren't a ton of them, and if you found one it was a rarity. This is long before there was ever a TechTV or G4 on cable to show off titles, long before IGN or any other company at the time had a website showing off content.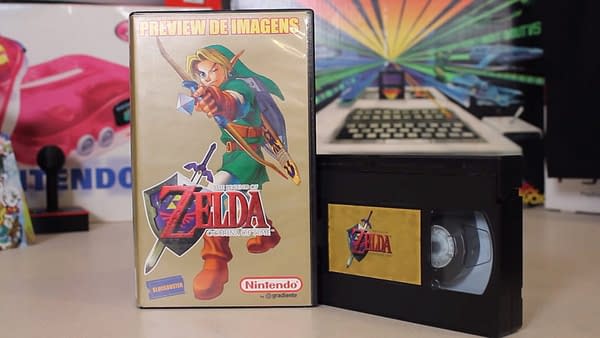 This particular VHS comes from a Blockbuster in Brazil, which was a giveaway for people who ordered an N64 through their store. It was to get you excited for a game to come, which in this case was the latest addition to the Legend Of Zelda series. The tape shows off some beta footage from the game, which really didn't change much from the final product. There's some weird faces, a few color choices that were swapped out, maybe some characters that weren't quite refined yet. But the basics are all there. Enjoy the video below from Hard4Games, who uncovered this relic of the '90s.