"Unrailed!" Receives It's First Content Update
Daedalic Entertainment released a new content updated into Unrailed! this week, which includes some Halloween material and new wagons. The co-op party game where you build a railroad in a short amount of time in a pixel world has some spooky additions, as you can see from the image below. But it also comes with some new material on the trains you'll have to contend with to make sure you get across the finish line in one piece. Best of luck to you and your friends with this first Unrailed! update.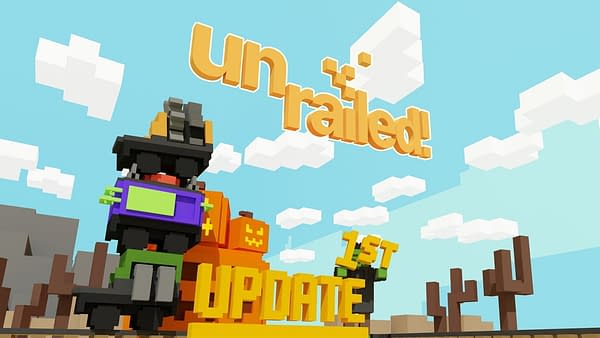 Several new wagons give you more ways to manage your resources under pressure. How about the new Mine Wagon, which automatically mines nearby resources but uses your precious iron to power it? Or the Collector Wagon, which gathers nearby commodities at the expense of wood. There's also the Break Wagon, which you dash to fill up, and the special Slot Machine Wagon for players with the Supporter Pack. In addition, today's update introduces new achievements, tasks, and a ton of overall balance improvements and bug fixes. Last, but not least: the Supporter sombrero finally stays where it's supposed to be!