Warframe Reveals Citrine's Last Wish & More Coming In February
The team at Digital Extremes revealed all of the content coming to Warframe in February, as the game ramps up with the next update.
---
Digital Extremes held a special livestream this past Friday in which they went over all of the content coming to Warframe in February 2023. The biggest reveal is the new update on the way, which they are calling Citrine's Last Wish, which included showing the new Rhino Deluxe V2 Warframe being added to the mix. Followed by the return of their popular Valentine's Day event, Star Days, in which they showed off all the content for that, including some returning items. The game will also be getting a massive update for all players that you'll appreciate with Cross-Platform Play, Cross-Platform Save, and Warframe for Mobile players. We got all the details below from the developer notes, as well as a link to the livestream below.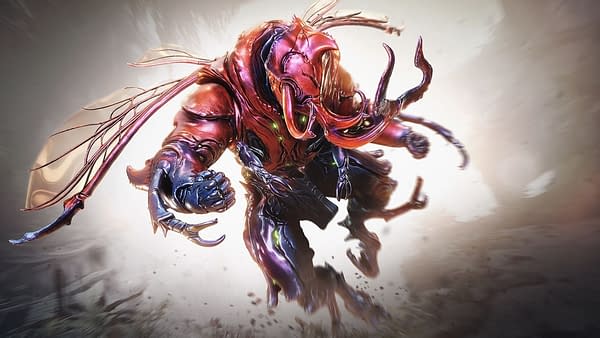 Awaken Citrine The Crystal Bastion
"Citrine's Last Wish will launch in February 2023, bringing the game's 52nd Warframe to players on all platforms to instantly unlock or earn in-game. Travel to Mars and take on Mirror Defense Missions to reunite star-crossed lovers of the Old War. Entrapped in crystals, players must bring together these fated lovers to earn Citrine's blueprints and components for crafting or instantly unlock her devastating embrace from the in-game Market. Citrine will feature a healthy arsenal of signature Weapons, Accessories, and Abilities, when she launches, including Corufell, a new Scythe that can deliver a charged blast to enemies at range, Citrine's Kalite Helmet, and Sugatra, as well as a new devastating Steflos, a short-ranged Primary weapon that becomes more powerful with each enemy hit. Also debuting with Citrine's Last Wish are a wide variety of additional cosmetics available from the in-game Market, including the first ever Facial Visage Ink (Tattoo) Customizations for the Drifter, a Rhino Deathwatch Deluxe Skin,, a new Void Shell Skin for Ember, along with new Augments and Arcanes. Additional quality-of-life improvements to the overall Warframe experience will also be implemented at this time."
Spread Love Across The Origin System With The Return of Star Days
"Star Days is making a welcome return to the Origin System as the popular annual Valentine's Theme event kicks off Wednesday, February 1 at 11:00 a.m. ET in Fortuna. Players can find Ticker's Affections in Fortuna, stocked up with new and returning items and rewards, including a Left Hand and Right Hand of Eros Emotes that form a heart when performed with two players. New glyphs will also be available along with returning items such as the Eros Wings Ephemera, Ticker Floof, and much more! An additional Valentine Color Palette will also be added to the in-game Market along with additional Glyph bundles. Star Days will run from Wednesday, February 1st, at 11:00 a.m. ET through Wednesday, February 15 at 11:00 a.m. ET."
Warframe's 10th Anniversary
"Digital Extremes is thrilled to celebrate ten years of Warframe in March. Additional news and programs will be announced as the milestone approaches, and 2023 is set to be a year of celebration as Digital Extremes continues to track on development for Cross Platform Save and Warframe for Mobile initiatives. Additional development work is being completed on trading, account linking, and other technical challenges related to Cross Platform Save, and iOS Closed Beta Tests have been positive and helpful in creating the best Warframe experience on the go. iOS Closed Beta Tests will continue to run for several more months, and Digital Extremes will be unlocking more content along the way. For more information, please visit the iOS Close Beta Subforum and the iOS Closed Beta FAQ."