What's In The Box?!: Geek Fuel – July 2017
We're nearing the end of the month, which means we're going to start seeing all of our new subscription boxes for July make their way to us. The first one to pop up int he mail for me this past week was the latest from Geek Fuel!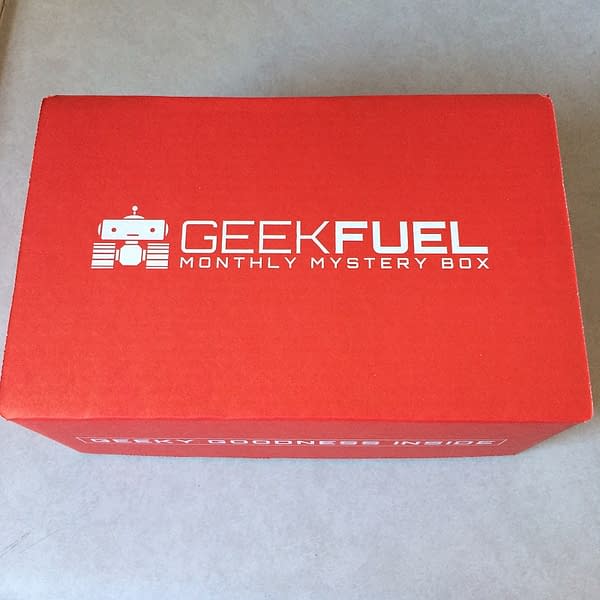 This month's box felt a little lighter than last month's. but it still had some goodies inside. The first on the list is the Barrel Cooler. So, let's get the obvious out of the way: it's mean to look like a Donkey Kong barrel, but since Nintendo isn't licensing it, it's just a barrel that happens to have some paint on the side. (Winkey-face!) The barrel itself isn't like your standard beer koozie, primarily because it's a plastic shape and not a foam shape. I didn't have a can on hand to test it out right away, but I was able to throw a pint glass in with no trouble. It's a good design and is awesome for DK fans, the only drawback it has is that it has a plastic smell to it that doesn't go away for a few days. Other than that, it's awesome.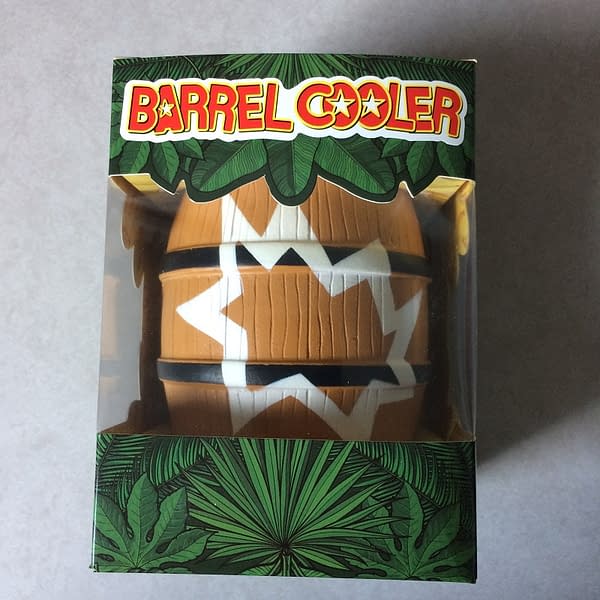 Next up is the return of Epic Enamels (made for Geek Fuel) with their robot series where they make these robotic-versions of famous properties that are just outside of that 20% difference realm. This month's series is for Thundercats (but not saying they're Thundercats), with a set of five that you can collect. We got She-Tarra, which was really cool considering she's the one all the boys wanted to begin with. The pin itself is well designed, standing 1.5" tall with a rubber stopper on the back and high-quality metal for the pin. They're great pins, but design-wise, I'm still not sure what to make of them, so I personally sit 50/50 on it.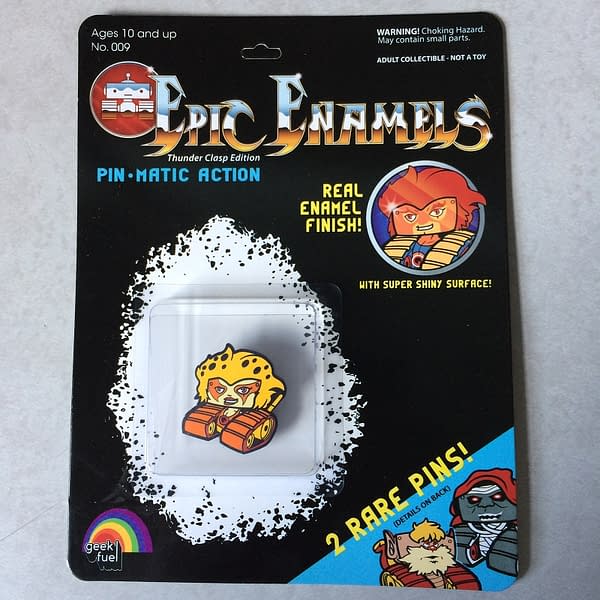 Next up is a free Steam code for the game Steamroll. I got a chance to throw this game in and it was amazingly fun. It's basically steampunk puzzle solving using an array of different items, where you are an engineer trying to escape from this elaborate dungeon. Nothing too time consuming or intensive, just enough of a brain teaser game that will make you come back for more, especially if you're into the genres involved. This was a great get as far as games go!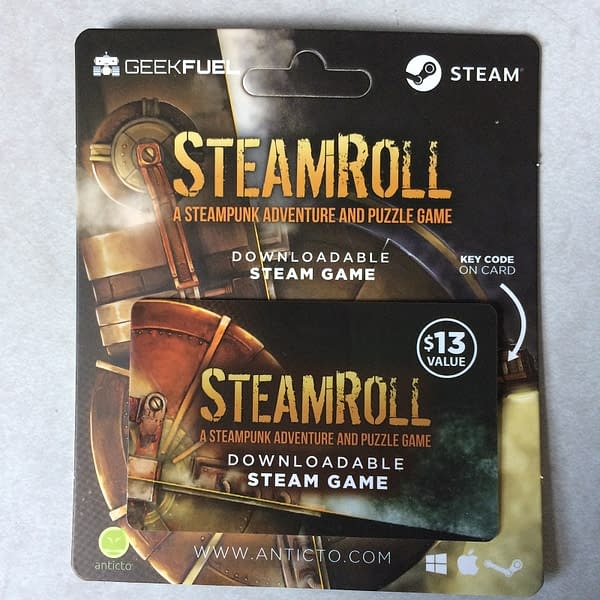 Next up, the return of the Kidrobot vinyl mini figures featuring characters from Street Fighter V. I actually like these figures a lot and I hope this is Geek Fuel's way of giving us one every month to get the collection. Last month I managed to score a Rashid figure, this month I got myself Charlie Nash. The design on him is quite excellent for the size figure. There's just one issue: he's missing glasses. This is in no way the fault of Geek Fuel, this is totally on Kidrobot. While I'm super stoked to have him, it is a glaring oversight on character design. It would be like making a Deadpool figure without his katanas. Super stoked, but not as much as I should be.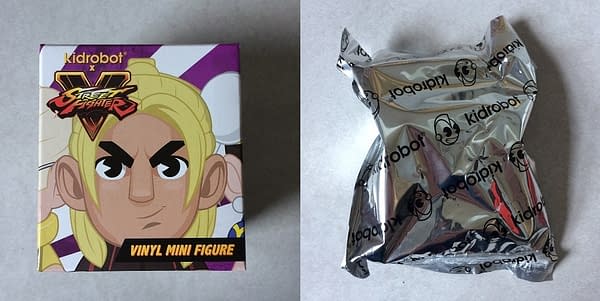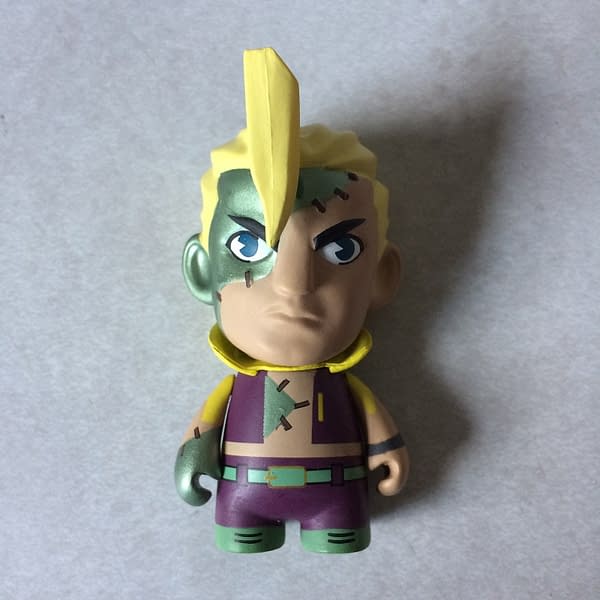 Finally, the item that always makes or breaks the box: the T-shirt. This month, it totally made the box as I got a Serenity design from the show Firefly and the film of the same name. It's designed on brown to match the Brown Coats, with a '70s style in a faded appearance as if I've owned the shirt for ages. I adore this, for many reasons, but it really sank home for me to see the phrase "You Can't Take The Sky From Me." That was the end-all-be-all for the box, I was sold the minute I saw this logo looking at me.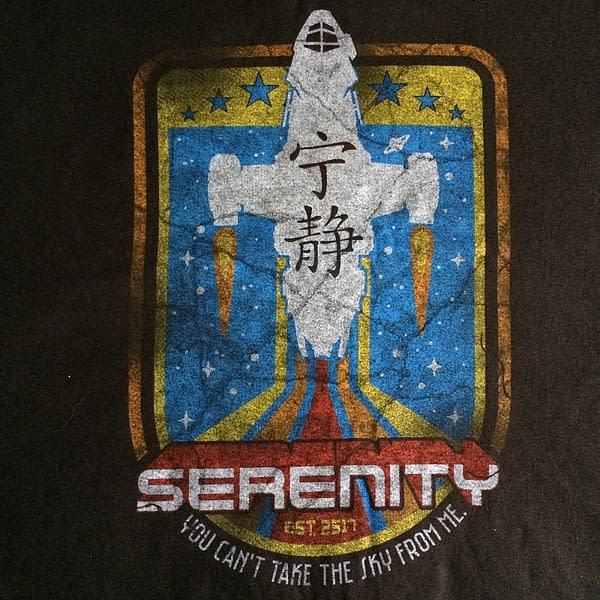 Overall, this month is kind of a mixed bag. It isn't bad, let's make that clear, but there are things in here I like and dislike. The pin is probably the lowest on the list with the shirt being the highest. The game was great, the fire (despite flaws) is great, the barrel (after being aired out) is great. But it does feel like one more item could have been added here that would have made the box feel better. But that's just a personal thought considering a couple of the items didn't do it for me.
What do you think about this month's box?