What's In The Box?!: Loot Crate DX – August 2018
The folks at Loot Crate have been having a few shipping issues as of late, but before September ended, we finally received our Loot Crate DX box for August. This month's theme was "Mayhem", which we immediately got from the front of the box with the Joker line, "I'm an agent of chaos." But is it truly a great box this month? We crack it open and find out.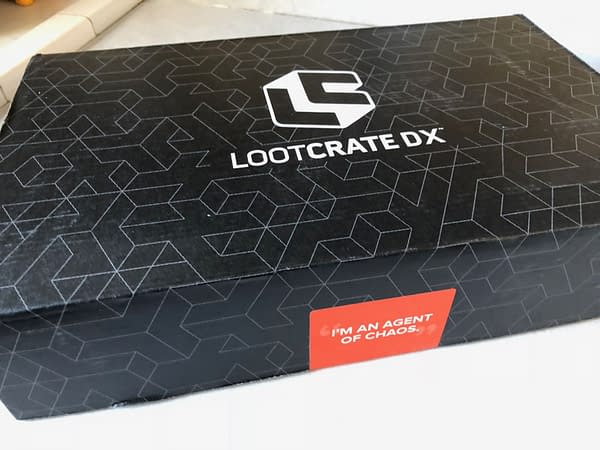 First, we'll start with the pin, which is that of an ice cream cone with the words "Chill Out" across it. It came in one of three flavors, and rather than chocolate or blue, we apparently got orange sherbert. We're not going to get too far into it because this is simply the worst item in the box. It doesn't fit the theme at all. I feel like this was meant to be in a different summer box, and was probably put here because they didn't get whatever pin was supposed to go with this one on time. I would have preferred no pin rather than one that doesn't fit.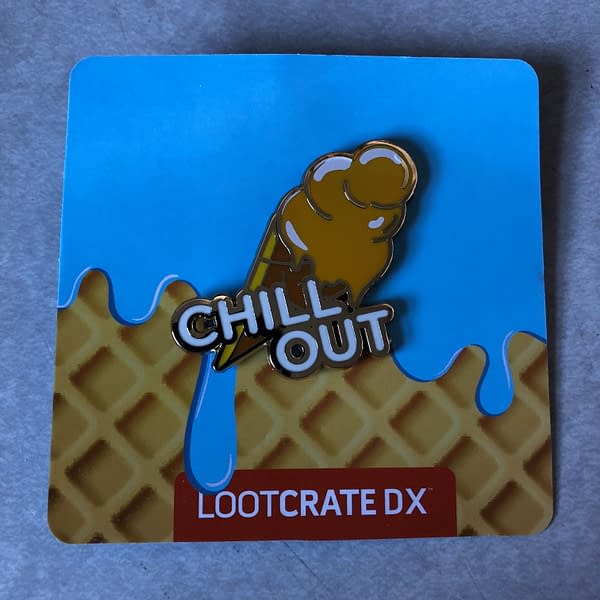 Next up, we get a pair of socks! (Funny, this makes the sixth pair in a year.) This is a pair of Batman crew socks from BioWorld, specifically that of The Joker. As you can see, the art is taken from The Killing Joke with the famous Brian Bolland art of when he steps out of the acid bath and goes insane. These are just awesome all around and a must-own for Batman fans!
Moving along to a book in the box, this is a peculiar item as we have AMC's The Walking Dead: The Official Cookbook and Survival Guide. Before you get your hopes up, no, this is not a book full of recipes of how to cook human flesh. It's basically a cookbook with items themed around characters or situations from the series. As you can see from the photos below showing off Carl's Biscuits and The Wilbur. This is just okay, it's basically a niche item for Walking Dead fans who love to cook. That being said, some of what's in here looks pretty tasty.
Next up on the list is another oddity. The Rick and Morty Portal Picnic Blanket. Yes, you read that correctly, they slapped R&M on a picnic blanket. Basically, this is a 4×4 hex blanket that's black on one side and has a green transdimensional portal on the other side. It folds up for easy storage in its own little case built into the blanket with straps to carry it. As far as a picnic blanket goes, this is pretty boss! As far as a Rick and Morty item goes… this is early '90s Simpsons level of products that didn't need to be made. We like it, but… come on, man! This is the kind of stuff that will get your license to print money suspended.
Finally, the make-or-break item of the box: the t-shirt. This time around we got a baseball tee paying homage to the joke of old and new. We have the old Joker symbol from the '60s slathered with red paint and "Ha!" graffiti as if the Joker is mocking what he used to be. This is an awesome design and I love everything about it. Sadly, baseball tees always fit tighter than they should, so this actually feels like its two sizes too small. Off to the gym, we go…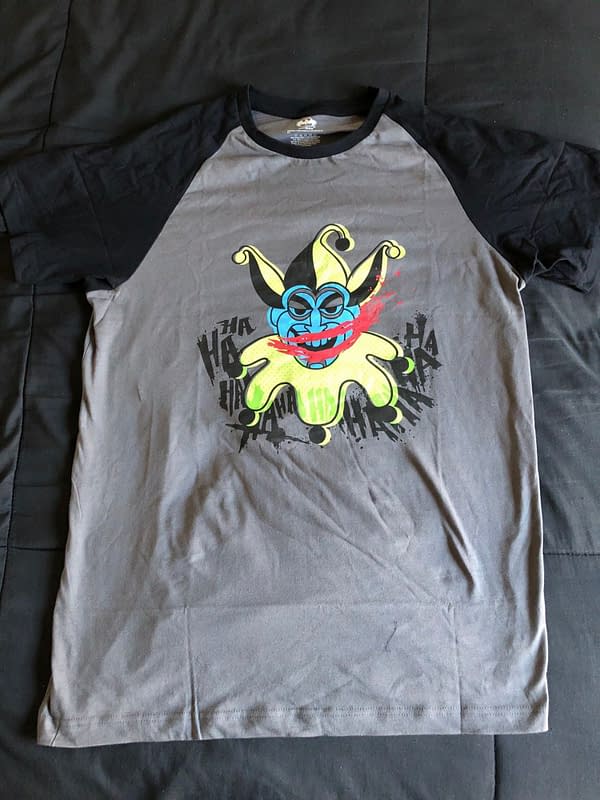 Overall, a pretty awesome Loot Crate DX this month, even though we got a useless pin in the mix. I really hope September's box (which is on the way as we write this) shows up with a complete set that's on-theme.