17 Years Into The Quest, Monty Python's Terry Gilliam Has Wrapped Production On Don Quixote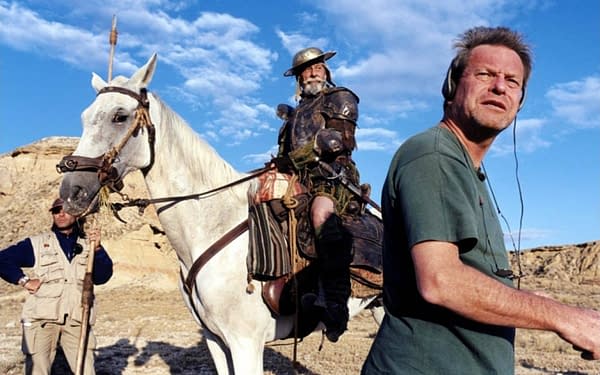 In the past two decades, we've been given six Spider-Men, three Batmen and two Supermen…and finally, one Don Quixote. Or actually, one man who killed Don Quixote.
Yes, after nearly twenty years of setbacks and hardships, Terry Gilliam's The Man Who Killed Don Quixote wrapped production Sunday morning, with Gilliam taking to Facebook to make the announcement:
Few productions have ever faced the mountain of problems that Gilliam's project has, with a laundry list of disasters so unbelievable that they became the subject of the documentary Lost in La Mancha which chronicled the bizarre series of events that tanked the production for quite some time.
The Man Who Killed Don Quixote stars Adam Driver and Jonathan Pryce and tells the story of a lost-in-the-world commercial director who receives a copy of his student film while on location in the Spanish countryside and finds himself caught-up in some unexpected adventures while trying to find the little village where the film was originally shot.
Though most film experts hold little hope that the film can make back its original $32 million+ budget (it was one of the most expensive European movies at the time, according to The Daily Beast), Gilliam and his cast have the satisfaction of knowing that twenty years of hard work will finally pay-off…an artistic victory if not a financial one.
Though should the movie prove a hit with audiences, you can be sure to pencil-in The Man Who Killed Don Quixote II: Quixote Harder for Summer 2037.