Avatar: the Way Of Water Becomes #4 All-Time, Passing Force Awakens
Avatar: The Way Of Water is now the fourth highest grossing film ever worldwide, meaning James Cameron owns 3/4 spots in the top 4 himself.
---
Avatar: The Way of Water continues to climb the list of biggest films ever at the box office, and now Star Wars has fallen. The Force Awakens is the latest film on the all-time list dethroned by James Cameron. Avatar now has made $2.075 billion worldwide, and earlier this week became only the sixth film ever to cross the $2 billion mark at the box office. Not bad for a film most of social media claimed: "doesn't make a cultural impact." The only lesson here is never again to doubt Cameron. The three films ahead of it are Titanic, Avengers: Endgame, and the first Avatar. Even after it topples Titanic soon, that also means three of the four highest-grossing films ever belong to James Cameron.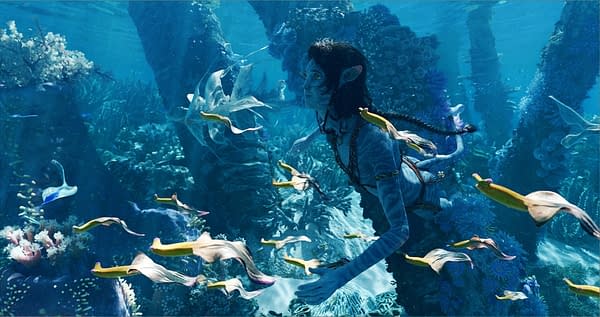 Avatar Keeps Proving Doubters Wrong
"Set more than a decade after the events of the first film, "Avatar: The Way of Water" begins to tell the story of the Sully family (Jake, Neytiri, and their kids), the trouble that follows them, the lengths they go to keep each other safe, the battles they fight to stay alive, and the tragedies they endure. Directed by James Cameron and produced by Cameron and Jon Landau, the Lightstorm Entertainment Production stars Sam Worthington, Zoe Saldaña, Sigourney Weaver, Stephen Lang, and Kate Winslet. Screenplay by James Cameron & Rick Jaffa & Amanda Silver. Story by James Cameron & Rick Jaffa & Amanda Silver & Josh Friedman & Shane Salerno. David Valdes and Richard Baneham serve as the film's executive producers."
As we have been saying, anyone who looked at that opening weekend being a bit soft and wrote that this was a failure is dead wrong. Now that it has reached the mark of $2 billion, and with a combined just under $5 billion across two movies, we can say that even if it is just an example of "event" moviegoing, it is time to call this what it is: one of the most successful movie franchises of all-time.