Bill & Ted Stars Deliver Commencement Speech for San Dimas High
San Dimas, California's most famous fictional alumni in Bill S. Preston (Alex Winter) and Ted "Theodore" Logan (Keanu Reeves), delivered a most excellent congratulatory speech to San Dimas High's Class of 2020. While not in character, Winter and Reeves participated in the school's virtual graduation with their special message delivered via video conference. "We know it's a tough time right now and you're having to do this virtual graduation," said Winter. "We want to wish you the best of luck moving forward." "Yeah, congratulations to the graduating class of 2020. Well done!" Reeves added. "But most importantly, we wanted to tell you to be excellent to each other," Winter exclaimed. In true Bill & Ted fashion, Reeves concluded with "And party on."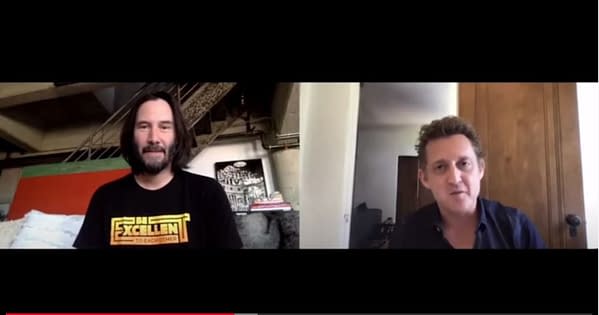 Bill & Ted Face the Music Details
Winter and Reeves return for their third Bill & Ted film in Face the Music, which is 29 years after their Bogus Journey (1991), and 31 years since the original Excellent Adventure (1989). Long removed since their stoner high school days, the duo find themselves as fathers with daughters. Despite their destiny as saviors for humanity, the Wyld Stallyns never reached their full potential as musicians still trying to find their defining hit. Galaxy Quest's Dean Parisot directed and creators Chris Matheson and Ed Solomon wrote the screenplay for Orion Pictures. Also returning to the franchise are William Sadler, Hal Landon Jr, and Amy Stoch. New additions to the cast include Samara Weaving, Bridgette Lundy-Paine, Kid Cudi, Beck Bennett, Erinn Hayes, Holland Taylor, Kristen Schaal, Jayma Hayes, and Anthony Carrigan. Bill & Ted Face the Music comes to theaters on August 21st. You can check out the video below, set at the 18-minute mark for the duo's message.
A visitor from the future tells best friends Bill and Ted that one of their songs can save life as we know it and bring harmony to the universe.