Brand New Trailer for Ready Player One Hits
Check out the brand new trailer for Ready Player One, how many easter eggs can you spot??
From director Steven Spielberg comes #ReadyPlayerOne – in theaters March 30. Watch the new trailer! pic.twitter.com/BHJ9kN8GTB

— Ready Player One (@readyplayerone) December 10, 2017
During the live Q & A with "Ready Player One" book author Ernest Cline, we learned so many new things. Like that the rights for his novel were officially published by Warner Brothers before the book was even published, and his reaction to learning about Steven Spielberg wanting to direct the film.
"Finding balance between escapism and the real world," Ernie says about the film and about the OASIS. "Tending to the needs of the real world, but art and escapism in the real world, something we do need to keep our sanity. It's one of those kinds of movies that doesn't come around too often. There's dark tense stuff happening but there's so much fun. It's a pure true adventure, it feels like Indiana Jones and Back To The Future a bit."
We also got a bit of background on why the Iron Giant shows up rather than Ultraman, as the rights for the character could not be secured due to the legal battles surrounding the IP. Apparently it was Spielberg's idea to use Giant.
BUT THAT TRAILER GUYS!! Using Depeche Mode's "World In My Eyes" was a BRILLIANT choice, and adding in Van Halen's "Jump" equally fits.
So many easter eggs (I mean come ON opening day is Easter ffs), we're doing our best to find EVERYTHING, there are so many.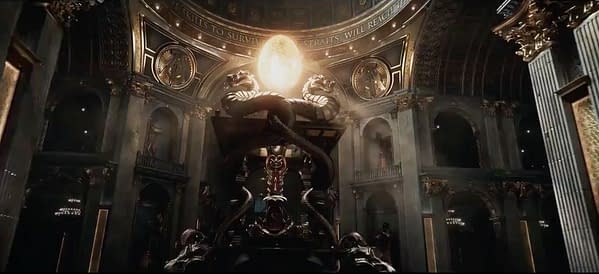 Ready Player One opens worldwide on March 30th, 2018.