Bullet Train: Brad Pitt to Star in David Leitch Sony Action-Thriller
Brad Pitt appears to be "all aboard" on David Leitch's latest thrill ride in Sony's Bullet Train. Joining the Once Upon a Time in Hollywood star and the Fast & Furious Presents: Hobbs & Shaw director is Zak Olkewicz (Fear Street), who provided the screenplay according to Deadline Hollywood. The film is based on the 2010 Japanese novel "Maria Beetle" by Kotaro Isaka. It follows five assassins who find themselves on a fast-moving bullet train from Tokyo to Morioka with only a few stops in between. They find their missions are related to one another. The novel asks who will make it out alive and what awaits them at the terminal? Filming is scheduled to begin in late 2020.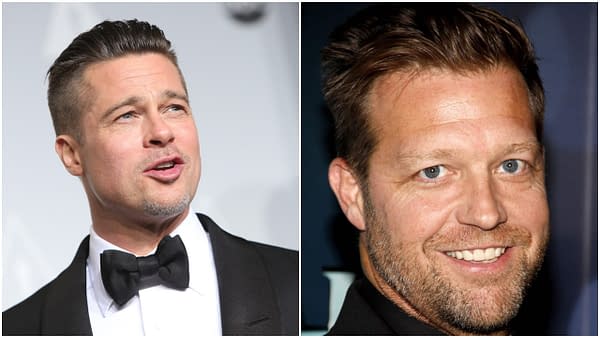 Pitt had a successful 2019 coming off his Oscar-winning performance from the Quentin Tarantino-directed film as well as his critically-acclaimed sci-fi role in James Gray's Ad Astra. Leitch easily transitioned to directing from stunt work. He emerged as a box office megastar with his work on the Matrix and John Wick films, Atomic Blonde (2017), and Deadpool 2 (2019). Atomic Blonde, DP 2, and Hobbs & Shaw combined to gross $1.64 billion globally at the box office. Leitch is assisting director Lana Wachowski for the untitled fourth Matrix film coordinating stunts as he did in the original trilogy for the upcoming Warner Bros sequel.
Pitt is rumored to be in talks to star in Damien Chazelle's Babylon opposite Emma Stone. While Pitt wasn't attached to any current projects when productions were suspended, he serves as executive producer for Jon Stewart's Irresistible (2020), Miranda July's Kajillionaire (2020), the Fox TV game show Lego Masters. Antoine Fuqua will produce with Leitch and Kelly McCormick (Atomic Blonde) through their company 87 North. Ryosuke Saegusa and Yuma Terada of CTB Inc will executive produce. Sony's Brittany Morrissey will oversee the project for the studio. Harvil Secker will publish Isaka's "Maria Beetle" as "Bullet Train" when the novel is translated to English in 2021.