Making Everything You Hated, Loveable – the Clueless Cast Reunion at C2E2
Classic 90's film Clueless turns 24 years old this year and C2E2's main stage had the good fortune to be host to a fun filled reunion of four of the cast members – including Cher herself, Alicia Silverstone. Also in attendance were Donald Faison and Breckin Meyer. The three were joined a few minutes into the panel by Paul Rudd. It was quite a time as the four joked, told stories and answered questions.

The discussion started out in the typical way, with the four talking about their experience working on the film. Silverstone stated immediately how fun it was to play Cher, who she saw as very different from herself. Despite being 17 years old at the time (the same age as Cher), Silverstone did not share her character's obsession with fashion. As Silverstone described it, she chose to "make all of the things I hated about her, loveable."
As the others chimed in with agreement, it was clear they shared a fondness for their time on the film. Meyer and Faison joked frequently throughout the panel and told a number of fun stories, getting large laughs from the audience.
One fun story was about the cast taking Faison out to an LA bar for his 21st birthday during filming, leading Faison to have the sudden realization that the majority of the cast weren't even old enough to go in. Faison also mentioned that they happened to meet Billy Zabka that same night, which prompted Rudd to excitedly add that he talked about that to Zabka right here at C2E2 the day before but neither could recall where it was.

Eventually the panel moved on to audience questions. Unsurprisingly, Rudd was asked a number of questions about Avengers: Endgame. Rudd seemed to have quite a time basically trolling the audience with non-answers and obnoxiously saying, "I know everything!" to more laughs.
The Q &A also answered the important question of Paul Rudd's secret to not aging. His answer: He's really just 80 years old, but only on the inside. Oh! and also moisturizer.
When asked about Stan Lee, Rudd described the day Lee arrived on set for his Ant-Man cameo. "It was like the president showed up." He also described how excited Lee was to see Ant-man in the scale he had always imagined but never truly came across on the comics page. You could tell it was a touching moment for both the panelists and audience.
The feels continued with a question about Brittany Murphy. Silverstone described seeing Murphy's audition and being blown away. Meyer went on about how talented Murphy was from their time working together on King of the Hill. Rudd described her as "the sweetest person".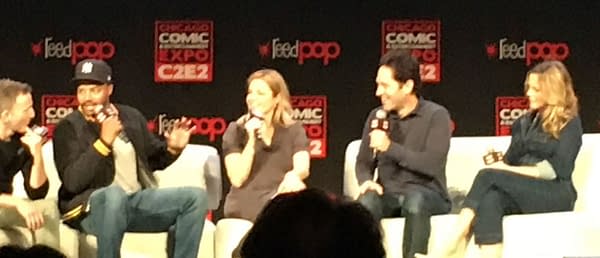 Sadly, time eventually ran out and the panel came to an end. I have to say, this was one of the most fun panels I have attended in a while. All four panelist where extremely entertaining and the audience clearly had a great time. Clueless may not be the first film you think of when it comes to comic conventions, but it is certainly loved by a group of great fans.