Dave Bautista Calls Guardians of the Galaxy Vol. 3 "The Perfect Exit"
Dave Bautista calls Guardians of the Galaxy Vol. 3 "the perfect exit," and explains why he won't "tarnish" that ending by returning to the role after the fact.
---
We've known for a long time now that Guardians of the Galaxy Vol. 3 would be closing the door on this version of the Guardians. Director James Gunn was upfront about the fact that this story always had a beginning, middle, and end, and while the end took a little longer than we all thought to get here thanks to some bad faith jokers, that end is still coming this May. However, some people are still having a hard time believing it, no matter what the actors might say. Dave Bautista has been the most vocal actor of the group about how this is the last time he will be playing Drax the Destroyer [Gunn doesn't really count, we know he is done with Marvel thanks to his new position at DC Studios]. Yet, people keep asking about it, much to his surprise. Bautista was on Jimmy Fallon (via ComicBook.com) to talk about his upcoming film Knock at the Cabin, but he was also asked about his journey at Marvel coming to an end.
"I think, yeah, it's weird; I don't know why it's news. I feel like it's…so this is my seventh film as Drax and my third 'Guardians,' and it's like our trilogy, and that's kind of what we all signed up for, to do a trilogy. This will be the last version of our Guardians of the Galaxy."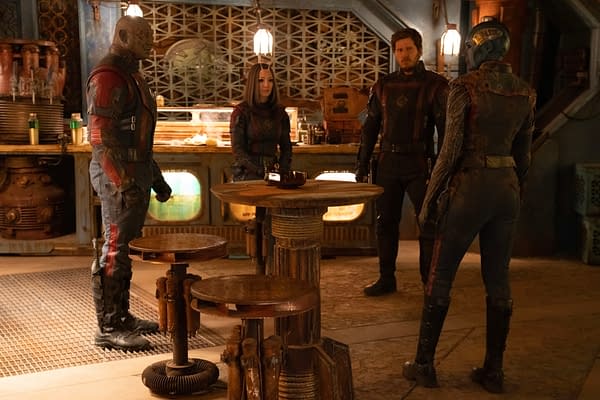 "It's hard, but it's time, and it's the perfect exit. We all had those perfect kind of character arcs and such a storybook ending," he added. "I constantly relate it to the way I finished my wrestling career, I ended it on a storybook note, and I would never go back and tarnish that, and it's the same with this, with Drax. I just got to end it in a perfect way, and I would never sign up for another job as Drax just to get a paycheck, I wouldn't tarnish that, and I won't do it."
It sounds like Guardians of the Galaxy Vol. 3 is truly going to be closing some doors for these characters, and Bautista really doesn't have any desire to return to these roots–good for him. There is nothing wrong with knowing you have the perfect ending and not wanting to undercut it by coming back in any capacity. The ending to the second Guardians film made adults ugly cry, so we can only imagine what Gunn and company have in store for us this time around.
Guardians of the Galaxy Vol. 3: Cast List, Summary, Release Date
In Marvel Studios "Guardians of the Galaxy Vol. 3," our beloved band of misfits are looking a bit different these days. Peter Quill, still reeling from the loss of Gamora, must rally his team around him to defend the universe along with protecting one of their own. A mission that, if not completed successfully, could quite possibly lead to the end of the Guardians as we know them.
James Gunn writes and directs "Guardians of the Galaxy Vol. 3," which stars Chris Pratt, Zoe Saldana, Dave Bautista, Karen Gillan, Pom Klementieff, featuring Vin Diesel as Groot, Bradley Cooper as Rocket, Sean Gunn, Chukwudi Iwuji, Will Poulter and Maria Bakalova. Kevin Feige is the producer, and Louis D'Esposito, Victoria Alonso, Nikolas Korda, Simon Hatt, and Sara Smith serve as executive producers. It will be released on May 5, 2023.