Mindhunter is one of the best shows to come out this year. Netflix knew it was good; that's why they renewed it months ago for a second season and for anyone who has finished the first season we are eager for the second season. It turns out we might be getting more than just a second season. In an interview with Screen Rant Holt McCallany, who plays Special Agent Bill Tench in the series, said that David Fincher wants five seasons of this show.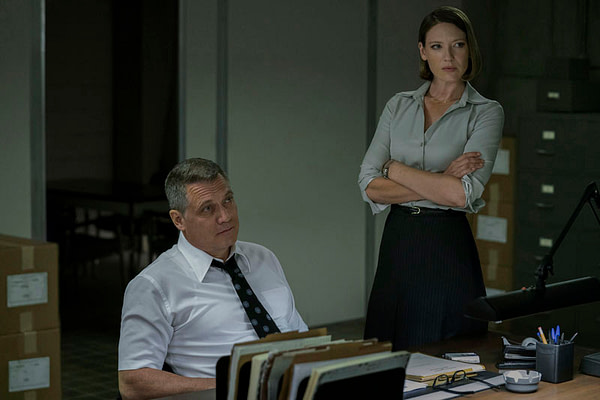 You know I'm in small, you know, supporting parts, peripheral parts. And so it was a big deal for me to be invited back by David in one of the leads. Because you know I believe in his talent, you know, and I know that you know, he wants to do five years of this show. Five seasons of these characters and so I'm hopeful, you know I don't take anything for granted.
McCallany has been in a lot of Fincher's work in the past including Fight Club and Alien 3. The response to the first season has been so strong that there is a good chance that Fincher could get his wish of five seasons of Mindhunter. The police procedural needed a shot in the arm and this was absolutely one.
Now if they want to release that second season, like, tomorrow we'd all be okay with that. Seriously with that cliffhanger? Come on.
In the late 1970s two FBI agents expand criminal science by delving into the psychology of murder and getting uneasily close to all-too-real monsters.
Mindhunter, created by Joe Penhall, stars Jonathan Groff, Holt McCallany, Hannah Gross, Anna Torv, Sonny Valicenti, and Cotter Smith. It's streaming to Netflix now.