Star Wars Poster Celebrating The Saga Release On Disney+ Revealed
Star Wars fans have a date with their TVs on Monday, as the entire Star Wars saga will now be in one place. All nine Skywalker films will be on Disney+ as of May 4th, when The Rise of Skywalker joins The Phantom Menace, Attack of the Clones, Revenge of the Sith, A New Hope, Empire Strikes Back, Return of the Jedi, Force Awakens, and The Last Jedi on the streaming service. On top of that, all animated series- Clone Wars, Rebels, and Resistance, along with live-action series The Mandalorian and spin-off film Rogue One are on there as well. The lone outlier is now Solo: A Star Wars Story, which will be on Disney+ as of July 9th. Disney released a new Saga tribute poster to celebrate the Skywalker Saga this morning.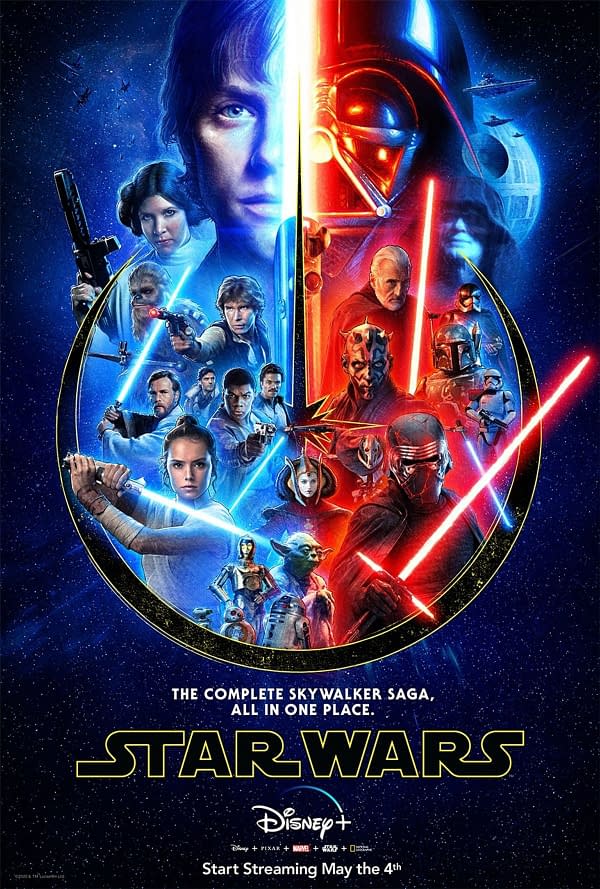 What Order Will You Watch Star Wars In?
It is pretty cool that streamers can now watch basically whatever Star Wars content they want with the push of a button on the same service. In 4k for the films no less. So, what order will you watch it in? I think from now on; I will start with A New Hope, then the prequels, Rogue One and Solo, then pick up with Empire through Rise of Skywalker. Most would pause after Ben Kenobi talks to Luke about the Clone Wars and his father in the hut on Tatooine, then start the prequels. I will just watch it to the end and go from there. Maybe mix in a couple of favorite Clone Wars and Rebels episodes in between. It is a shame Solo is still tied to Netflix for two more months.
Enjoy your weekend, everyone, and come Monday, May the Force be With You. Always.