"Dune": 1984 Star Kyle MacLachlan Talks 2020 Remake
Actor Kyle MacLachlan and director/writer David Lynch have a long history together working on classics like Twin Peaks, Blue Velvet, and Dune. With interest peaking in nostalgia, MacLachlan and Lynch got to work together again in 2017's Twin Peaks revival series and Dune is being adapted for the big screen again for 2020 and television series. IMDb spoke with the actor about what he thinks about the upcoming 2020 film from Denis Villeneuve and star Timothée Chalamet as Paul Atreides. MacLachlan played Paul in Lynch's 1984 film.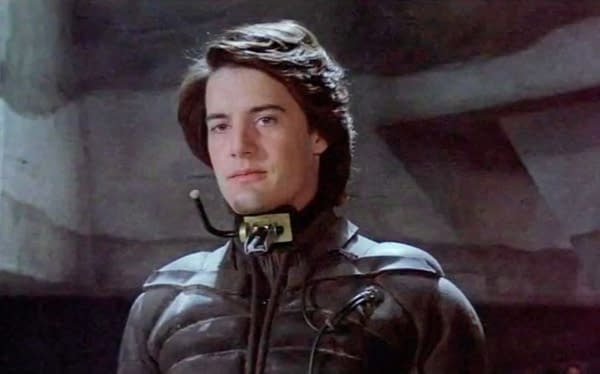 "I'm very excited to see it. There will be another one, there will be a couple of us out there, running around. There's plenty of room I think, and Timothée I think will do a fantastic job. I'm very much looking forward to the vision Denis has. David Lynch, of course, it's a very specific vision, so this will be something completely different, I'm sure. Why not have both stand on their own merits?"
"Dune" Synopsis
Based on the Frank Herbert novels, Dune follows Paul, a son of a nobleman in the desert planet Arrakis. The planet harbors a valuable resource called "spice". When harvested, it can extend human life and enhance mental and physical abilities. Paul bears the responsibility to protect his family and planet from all impending threats.
The Lynch film featured an all-star cast opposite MacLachlan. Among them include Francesca Annis, Leonardo Cimino, Brad Dourif, Virginia Madsen, Patrick Stewart, Sting, Dean Stockwell, Max von Sydow, and Sean Young.
Thrashed by critics, the film didn't even make its $40+ million budget at the box office. Perhaps 36 years later, Dune can transition better to the screen. Given Villeneuve's previous work in Arrival (2016) and Blade Runner 2049, he appears capable of taking on such an ambitious undertaking. The 2020 Warner Bros film stars Chalamet, Oscar Isaac, Rebecca Fergusson, Dave Bautista, Stellan Skarsgård, Zendaya, Charlotte Rampling, Josh Brolin, and David Dastmalchian.
Dune comes to theaters on December 18th.