"Ghostbusters" 35th Anniversary: Let Bustin' Make You Feel Good Again This October
One of the most popular comedy/sci-fi franchises of the 80's is coming back to the big screen just in time for Halloween, with Ghostbusters returning to theaters for its 35th anniversary – courtesy of Fathom Events. The event takes place over two nights, on October 6th and 10th – so fans will have the chance to grab their proton packs and join Peter Venkman (Bill Murray), Ray Stantz (Dan Aykroyd), Egon Spengler (Harold Ramis), and Winston Zeddemore (Ernie Hudson) for a trip into this classic paranormal comedy.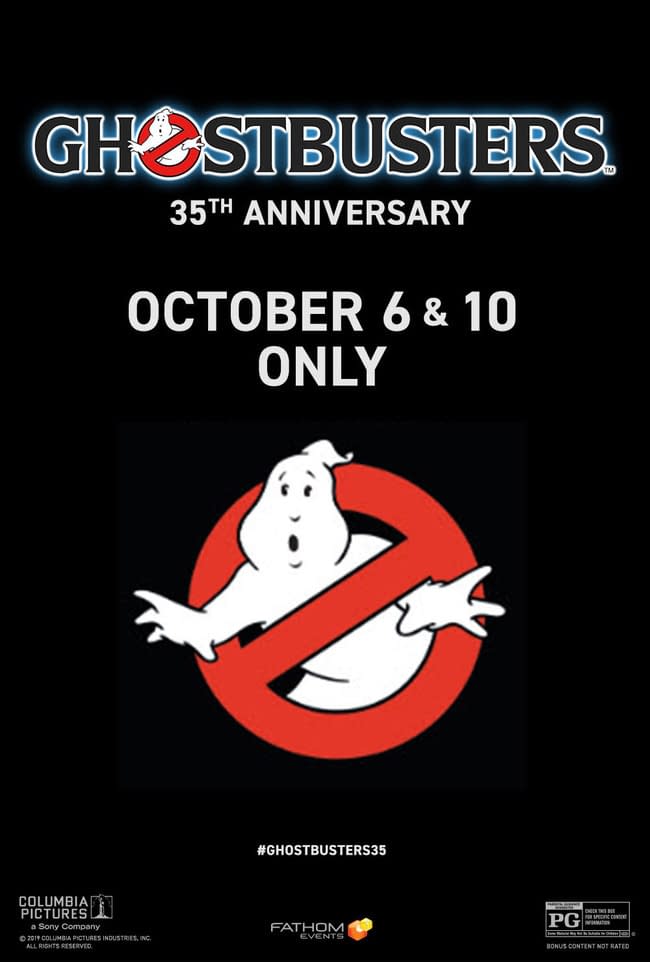 The Ivan Reitman-directed film follows three rejected college professors who go into business on their own to capture menacing ghosts plaguing the streets of New York City. along the way, they become a pop culture phenomenon – while staving off less-than-fans Slimer and the Stay-Puft Marshmallow Man.
The 35th anniversary will include an introduction that reunites key members of the cast, sharing their personal stories about what made the film special and why it remains relevant after all these years. The screenings will also include newly unearthed and rarely seen alternate takes from famous scenes.
Written by Aykroyd and Ramis, the film was nominated for two Academy Awards -for Best Effects – Visual and Best Music – Original Song for Ray Parker Jr.'s theme. The 1984 Sony Pictures/Columbia became a monster hit grossing over $295 million globally in the box office and spawning sequels (the latest an upcoming film from Jason Reitman, Ivan's son), numerous animated series, a slew of videogames, and a live-action reboot.
"Ghostbusters is a comedy legend and a movie legend, a movie whose immediate success has been followed by decades of fervent fan appreciation. There's never been a comedy quite like it, and maybe never will be again, and Fathom Events is delighted to bring Ghostbusters back to the big screen for longtime fans to enjoy again and new audiences to discover for the first time."

– Tom Lucas, Vice President of Studio Relations, Fathom Events
The 1984 film also starred Sigourney Weaver, Annie Potts, Rick Moranis, and William Atherton. The 35th anniversary will be screened at over 600 movie theaters nationwide at 4 p.m. and 7 p.m. local time on October 6 and 10… so now who you gonna call?