'Godzilla: King of the Monsters' Stomps Into Pop Up Shops This Weekend!
We are SO EXCITED for the upcoming feature film Godzilla: King of the Monsters, and thanks to Kinokuniya, we're getting a set of Godzilla pop up shops this weekend!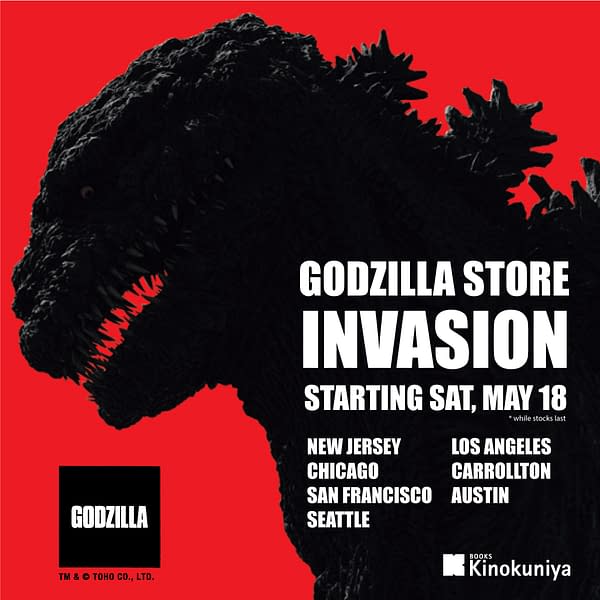 At Godzilla Store Pop Up Shops, you can find an abundance of unique visual books, a whopping 12 of the Godzilla "B SIDE LABEL" stickers, various Godzilla T-shirts including the coveted TOMODACHI shirt featuring Godzilla and Jet Jaguar, a Second-Form Shin Godzilla Cable Bite, several Godzilla straps, and so much more! These unique and one-of-a-kind items can be found nowhere else outside of Japan's Godzilla Store in Tokyo. GODZILLA STORE INVASION will be available at these Kinokuniya locations starting from May 18th and running til June 30th.
You'll be able to find the pop up shops in:
New Jersey
Mitsuwa Marketplace
595 River Road
Edgewater, NJ 07020
Illinois
Chicago
Mitsuwa Marketplace
100 E. Algonquin Road
Arlington Heights, IL 60005
Washington
Seattle
Uwajimaya Village
525 South Weller Street
Seattle, WA 98104
California
San Francisco
Japan Center
1281 Webster Street
San Francisco, CA 94115
Los Angeles
Little Tokyo
123 Astronaut E. S. Onizuka Street
Los Angeles, CA 90012
Texas
Austin
6929 Airport Blvd.
Suite 121
Austin, TX 78752
Carrollton
Carrollton Town Center
2540 Old Denton Road
Suite 114
Carrollton, TX 75006
Let us know if you check any of these locations out, we want pictures!
Godzilla: King of the Monsters is set to hit theaters on May 31st 2019.