WORM SIGN: Hans Zimmer Will Score Legendary's 'Dune'
We are absolutely THRILLED to share the news that Hans Zimmer will be composing the upcoming Legendary Pictures adaptation of Dune from director Denis Villeneuve. Who BETTER to create the sounds of Arrakis (other than you know, Toto) and the vast space scapes we'll need to tell the story of Muad Dib and co?!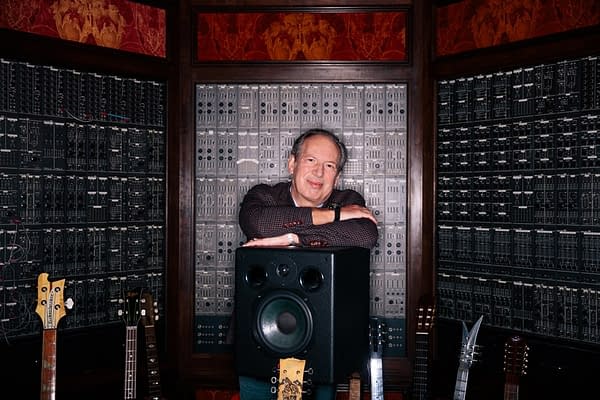 According to the official PR from Legendary and Warner Bros. Pictures:
Set on the planet Arrakis, we find ourselves exploring the story of two warring galactic royal families House Atreides and House Harkonnen. When Duke Leto Atreides is assassinated, his son Paul and wife Lady Jessica escape only to be adopted by the Fremen, who becomes Paul's personal army against the Harkonnen as he develops powers from the spice, a substance that extends life and powers interstellar travel. A tangled web of royal intrigue is revealed with the Emperor and other cosmic powers pulling the strings while attempting to erase house Atreides. There was also a mention of who we'll be seeing behind the scenes, with several previous Villeneuve collaborators on board (and confirmation of who is doing the costumes!!):
Behind the scenes, Villeneuve is collaborating for the first time with Oscar-nominated director of photography Greig Fraser ("Lion," "Zero Dark Thirty," "Rogue One: A Star Wars Story"); three-time Oscar-nominated costume designer Jacqueline West ("The Revenant," "The Curious Case of Benjamin Button," "Quills") and co-costume designer Bob Morgan; and stunt coordinator Tom Struthers ("The Dark Knight" trilogy, "Inception").

Oscar-winning and multiple Oscar-nominated composer Hans Zimmer ("Blade Runner 2049," "Inception," "Gladiator," "The Lion King") is creating the score.

Villeneuve is also reteaming with two-time Oscar-nominated production designer Patrice Vermette ("Arrival," "Sicario," "The Young Victoria"), two-time Oscar-nominated editor Joe Walker ("Blade Runner 2049," "Arrival," "12 Years a Slave"), two-time Oscar-winning visual effects supervisor Paul Lambert ("First Man," "Blade Runner 2049"), and Oscar-winning special effects supervisor Gerd Nefzer ("Blade Runner 2049").
This film cannot come soon enough, as >this< reporter can't stop doing freaking Colbert grabby hands anytime news comes out about it.
Two-time Oscar nominee Timothée Chalamet will star as Paul Atreides, Rebecca Ferguson as Lady Jessica Atreides, Oscar Isaac as Duke Leto Atreides, Josh Brolin as Gurney Halleck, Stellan Skarsgård as Baron Harkonnen, Zendeya as Chani, Jason Momoa as Duncan Idaho, Javier Bardem as Stilgar, Charlotte Rampling as Reverend Mother Gaius Helen Mohiam, David Dastmcalchian as Piter De Vries, Chang Chen as Dr. Yueh, and Dave Bautista as The Beast Raban Harkonnen.
Dune is set to hit theaters on November 20th, 2020.
Shai Hulud.