The John Wick series is one of the best action series to come along in years, and the fact that it basically came out of nowhere just makes it all the more fun. A little independent action movie that came out in 2014 has exploded into a trilogy with a comic and TV show spinoff. We got the fantastic Ian McShane in this universe and he recently spoke to Rotten Tomatoes about how mad the High Table will be for letting John Wick get away at the end of John Wick: Chapter 2.
"Oh yeah, you know The High Table will be pissed off," McShane said. "The High Table are very pissed off, and they're very angry."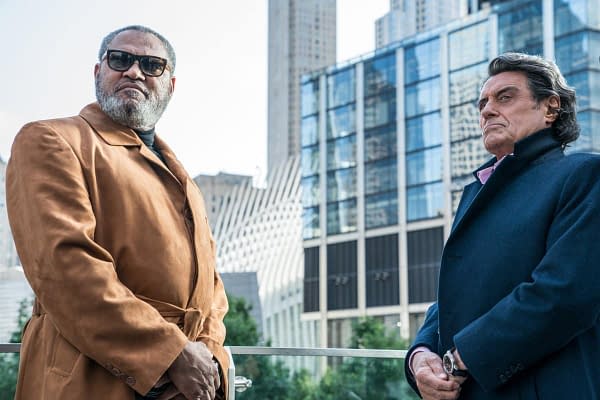 Those pissed off people are going to cause some strife. McShane plays another character in American Gods where the loyalties and alliances are always moving around. He confirmed that things are very similar in the world of John Wick.
"It all shifts around," McShane said. "Talk about shifting alliances, it's the same thing."
For fans who were hoping that McShane would be making an appearance in the upcoming TV show The Continental well, we have some bad news. He was asked directly if he would and flat out answered "no" but did hint that he could be there in another capacity.
"No," McShane told RT when asked about appearing on the series. "But I may give 'em a voiceover. A series, no. They talked about that."
John Wick: Chapter 3–Parabellum might be coming out during the extremely busy blockbuster season but there is a hardcore crowd that keeps movies like this alive and with good reason. There are not nearly enough well-made action movies where the world building is just as fun as the action scenes. This series is special and we're so lucky we're getting more of it.
Summary: Super-Assassin John Wick (Keanu Reeves) is on the run after killing a member of the international assassin's guild, and with a $14 million price tag on his head – he is the target of hit men and women everywhere.
John Wick: Chapter 3 – Parabellum, directed by Chad Stahelski, will star Keanu Reeves, Ruby Rose, Ian McShane, Common, Anjelica Huston, Asia Kate Dillon, Mark Dacascos, Jason Mantzoukas, and Halle Berry. It will be released on May 17th, 2019.
Enjoyed this article? Share it!