Jakob's Wife Starring Barbara Crampton and CM Punk Comes to Shudder
The upcoming indie horror film Jakob's Wife brings horror veteran Barbara Crampton, and professional wrestler turned actor CM Punk together for a bloody event this August.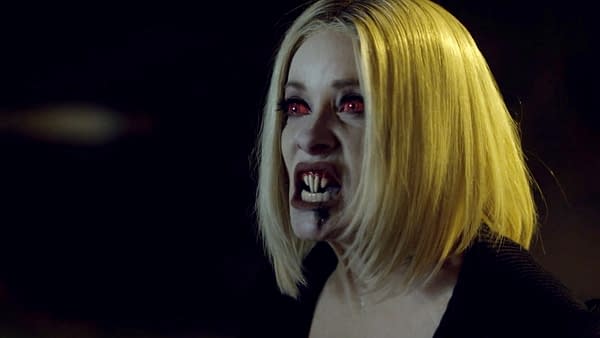 The supernatural thriller film will drop exclusively on AMC's home for all things horror, Shudder, starting August 19. The film's marketing for the official trailer and poster displays a little bit of attitude and mischief for the upcoming film with a vampiric element to keep people on edge. Giving off a little Real Housewives meets Nosferatu energy; the film's description reads, "Anne is married to a small-town minister and feels like her life and marriage have been shrinking over the past 30 years. After a chance encounter with 'The Master,' she discovers a new sense of power and an appetite to live bigger and bolder than before. As Anne is increasingly torn between her enticing new existence and her life before, the body count grows, and Jakob realizes he will have to fight for the wife he took for granted."
Crampton has made a name for herself in the indie horror space throughout her career in classics like the 1985 film Re-Animator, or her appearance in the positively received slasher You're Next, making Jakob's Wife a must-watch for Crampton's dedicated fanbase. In addition to Crampton, Punk has garnered an equally impressive horror following after his lead role in Girl on the Third Floor. Bonnie Aarons of The Nun is featured, making this an experienced cast of genre lovers.
Jakob's Wife was directed by Travis Stevens (who also helmed Girl on the Third Floor) and co-wrote the film alongside Mark Steensland and Kathy Charles. The film additionally stars Larry Fessenden (Stake Land), Nyisha Bell (Coming 2 America), Mark Kelly (The Hot Zone), Sarah Lind (Wolfcop), and Robert Rusler (A Nightmare on Elm Street 2: Freddy's Revenge).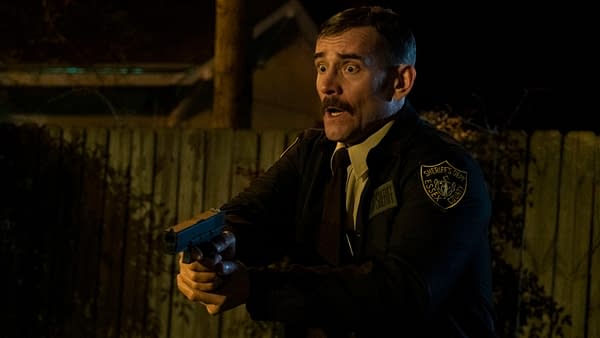 With Jakob's Wife rounding up a few horror professionals and solid reviews from audiences so far, the film looks like it's worth checking out when it drops on Shudder next month!