There are a lot of projects that have been stuck in development hell for years and Alita: Battle Angel just happens to be one of them. Some of it probably had to do with waiting for technology to catch up so they could bring it to life. Producer James Cameron was being interviewed Entertainment Tonight and he explained how director Robert Rodriguez became an important part of the production.
"You know, it's been a long time in development, 20 years. But from the time Robert and I said 'Let's do this' and shook hands on that, it's only been three years," he shared. "He's a shooter. He makes things happen. Built the set on his backlot there in Austin where they shot the film and he just knew what to do… It was great."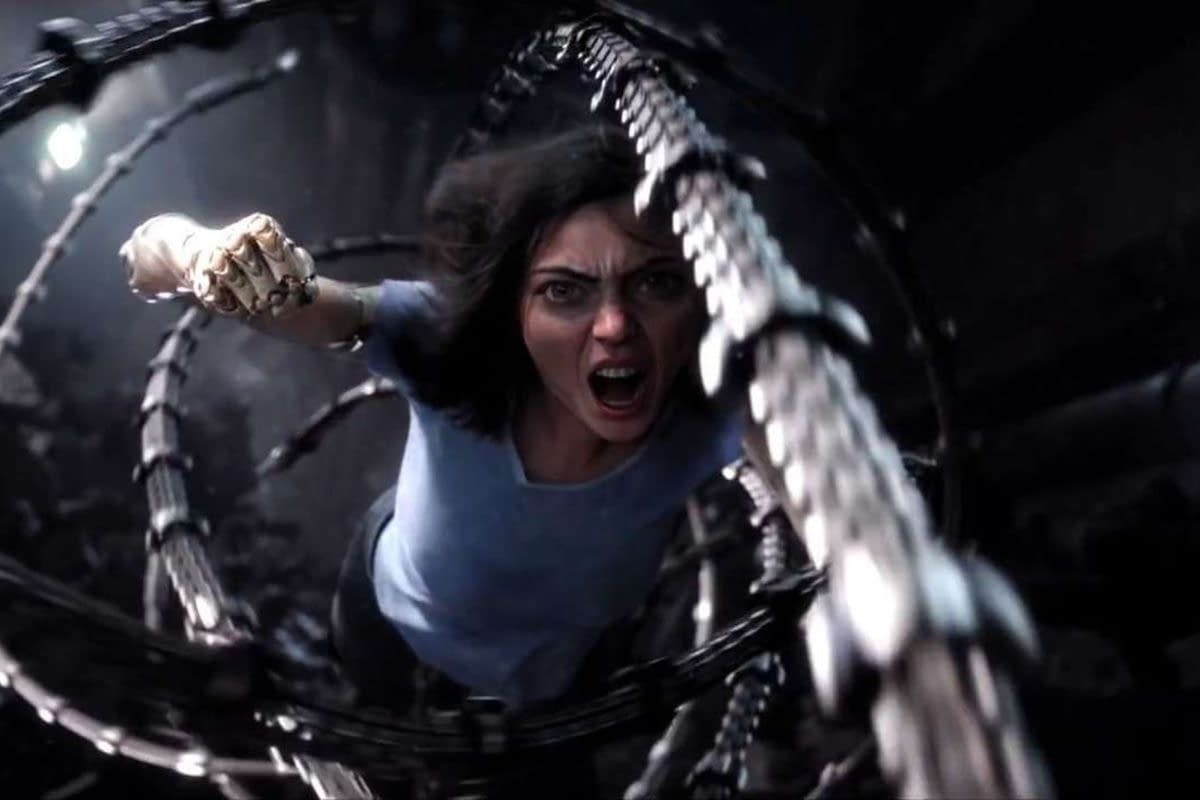 Cameron went on to explain why he believed Rodriguez was the right man to bring this particular story to life.
"Well, I think for one, we've been friends for a long time and we've been looking for something to do," Cameron stated. "Second, he's able to access a child-like sensibility… and you see that. You get into the film through the eyes of this young girl, she's an adolescent seeing the world for the first time and he's able to do that."
For all that Rodriguez might be known for things like the Sin City movies, he does enjoy going into the realm of kids movies. Some people forget that he was the director who made the underrated Spy Kids movies and for Cameron, the fact that Rodriguez can do both extremes is what made him the man for the job.
"He's got children himself," he continued. "He likes to make kids' movies but he also likes to make the opposite end of the spectrum. Very rough, hard-edged, grown-up kind of action films. So Alita's kind of right in the middle. It's got its tough moments, it's got it's hard-edged action, but it's also got this soft kind of wondrous center to it."
The fate of Alita: Battle Angel is still very much up in the air. The early reviews haven't exactly been glowing and it has a huge budget it needs to recoup for 20th Century Fox. It'll be going up against The LEGO Movie 2: The Second Part in its second week and movies like Happy Death Day 2U, Isn't it Romantic?, and Fighting with My Family.
When Alita awakens with no memory of who she is in a future world she does not recognize, she is taken in by Ido, a compassionate doctor who realizes that somewhere in this abandoned cyborg shell is the heart and soul of a young woman with an extraordinary past. As Alita learns to navigate her new life and the treacherous streets of Iron City, Ido tries to shield her from her mysterious history while her street-smart new friend Hugo offers instead to help trigger her memories. But it is only when the deadly and corrupt forces that run the city come after Alita that she discovers a clue to her past – she has unique fighting abilities that those in power will stop at nothing to control. If she can stay out of their grasp, she could be the key to saving her friends, her family and the world she's grown to love.
Alita: Battle Angel, directed by Robert Rodriguez, stars Rosa Salazar, Eiza González, Jennifer Connelly, Michelle Rodriguez, Mahershala Ali, Christoph Waltz, and Jackie Earle Haley. It will be released on February 14th.
Enjoyed this article? Share it!