Jamie Lee Curtis Suggests a Freaky Friday Sequel is Happening
Jamie Lee Curtis can make anything happen, and she officially has her sights set on developing a Freaky Friday 2 with Lindsay Lohan.
---
Jamie Lee Curtis is one of the greats, having given us total scream queen perfection as Laurie Strode in Halloween (for several iterations), her recent supporting role in Everything Everywhere All at Once, and her family-friendly comedic skills in Freaky Friday. So if we can get a million Halloween films and reboots of her previous projects like Prom Night or Terror Train, why not tap into something the star is interested in doing?
During an appearance at the Producers Guild Awards earlier this week, Curtis addressed the Freaky Friday sequel topic with Variety and confidently stated, "It's going to happen. Without saying there's anything officially happening, I'm looking at you in this moment and saying, 'Of course, it's going to happen.' It's going to happen."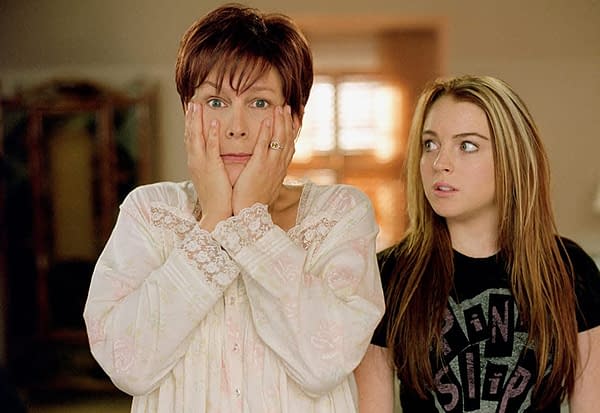 Curtis Has Been Actively Working Towards a Freaky Friday Sequel
This idea isn't exactly a new sentiment either, as Curtis has been rather vocal about her (and Lohan's) desire to revisit Freaky Friday for a new story. During a previous conversation with the publication, the esteemed actor tossed around ideas being shopped to Disney by suggesting, "We're talking. People are talking. The right people are talking . . . We (both Curtis and Lohan) are both committed to it. It's not ours to make – it's Disney's to make, and I think they're interested. And we are talking."
As for what the film could be about? Curtis also divulged, "Well, she's gotta be a grandma. I mean, I gotta be a grandma. And just watching Lindsay try to be a grandma makes me laugh, and then me being a grandma trying to take care of toddlers makes me laugh, so I'm assuming it'll be something, or it won't be anything we don't even know yet."
Even though this is something that's obviously going to require Disney's approval, the confidence and passion behind Curtis are impossible to ignore – but would you be interested in a Freaky Friday follow-up film?