John Wick: Chapter 4 – It Sounds Like Chapter 5 Hasn't Been Greenlit
John Wick: Chapter 4 is coming out this year, but even though it was originally supposed to be shot back to back with Chapter 5, the fifth movie hasn't been officially greenlit yet.
---
When it comes to original IP that has thrived in the era of adaptation, one doesn't need to look any further than the John Wick films. The first one, at first, looked like nothing more than an excellent action with a premise that could be easily described as "Taken but with a dog." However, hidden beneath that premise was a fascinating world that has only gotten more interesting the more we have explored it. Lionsgate hasn't been shy about saying they want to make as many of these films as possible. The creative team behind them also seems very interested in continuing to explore this universe. Before the pandemic threw a wrench into things, John Wick: Chapter 4 and Chapter 5 were supposed to be filmed back to back, but, much like Mission: Impossible, it just didn't happen. However, unlike Mission: Impossible, we haven't heard anything about the fifth film, and now it sounds like it isn't greenlit. According to a new interview with Total Film stars, Keanu Reeves has confirmed that the ink is not dry on a fifth film, but if the demand is there, then it'll probably happen.
"You have to see how the audience responds to what we did," says Reeves. "The only reason we've had a chance to make these movies is that people have liked what we have done. So I think we have to wait and see how the audience responds to it. Hopefully, they'll like it."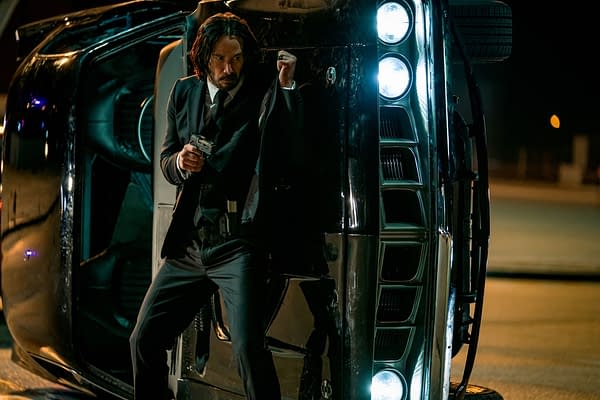 However, things behind the camera have changed a little. Maybe before the pandemic, director Chad Stahelski would have been okay with directing both of those movies back to back, but right now, it sounds like he might want to take a step back from the John Wick universe. Specifically, Stahelski just signed on to direct the sequel to Without Remorse starring Michael B. Jordan, titled Rainbow Six.
"You might have to give me and John Wick just a little break," Stahelski says. "Ask me in a couple of months. In the next week, I'm praying to the movie gods that I finish this one."
John Wick: Chapter 4 is coming out this year, but there might be a bit of a wait for Chapter 5. However, we do have Ballerina, and the TV show will hold us over until then, so maybe a break is needed. Absence does make the heart grow fonder after all…not that my heart could get even more fond of these films, but that's beside the point.
John Wick: Chapter 4: Summary, Cast List, Release Date
John Wick (Keanu Reeves) uncovers a path to defeating The High Table. But before he can earn his freedom, Wick must face off against a new enemy with powerful alliances across the globe and forces that turn old friends into foes. John Wick: Chapter 4 stars Keanu Reeves, Donnie Yen, Bill Skarsgård, Laurence Fishburne, Hiroyuki Sanada, Shamier Anderson, Lance Reddick, Rina Sawayama, Scott Adkins, and Ian McShane. It is directed by Chad Stahelski, written by Shay Hatten and Michael Finch, and based on characters by Derek Kolstad. Basil Iwanyk, Erica Lee, and Chad Stahelski are producing, and Keanu Reeves, Louise Rosner, David Leitch, and Michael Paseornek are executive producing. It will be released on March 24, 2023.