Kyle MacLachlan's Advice to New 'Dune' Muad'Dib Timothée Chalamet
It's always nice when an actor can pass along advice to the next generation to carry on a notable role. Such is the case with Kyle MacLachlan, who played the character of Paul Atreides in David Lynch's 1984 film version of Dune by Frank Herbert.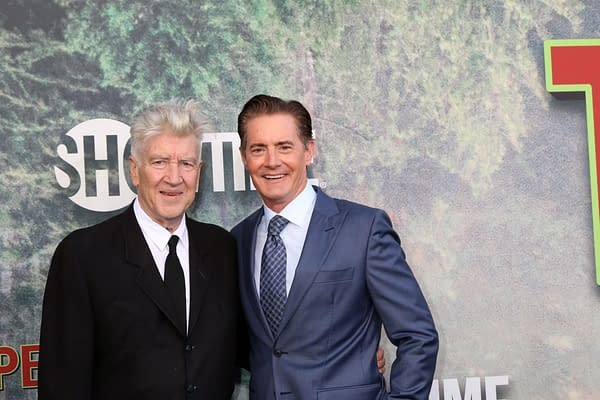 We've got a new version of the film coming from Oscar-winning filmmaker Denis Villenueve at Legendary Pictures, which will star two-time Oscar nominee Timothée Chalamet as Paul.
MacLachlan recently chatted with AM2DM by Buzzfeed, and offered some of his thoughts about the new adaptation.
"I'm kind of a nerd about the book. I read it when I was 15 for the first time. I read it every year, I really know the book very well. There are three sections you can break that into three movies and still have a lot leftover.

It's a challenging piece of material to try to bring to the screen, so I wish him [Villeneuve] luck with that, If anyone can do it, he'll do a great job…he's a great filmmaker."
And to Chalamet, perhaps the most important advice:
"Go easy on the spice," he says.
So far, Villeneuve's Dune has a pretty impressive cast- Chalamet as Paul, Rebecca Ferguson as his mother The Lady Jessica, Oscar Isaac reportedly joining the film as Paul's father Duke Leto Atreides, Stellan Skarsgard as Baron Vladimir Harkonnen, Charlotte Rampling as the Bene Gesserit Reverend Mother Gaius Helen Mohiam, Dave Bautista as the Beast Raban Harkonnen, Javier Bardem as Fremen leader Stilgar, and the most recent casting rumor (that we're still waiting to get confirmed) of Zendaya as Chani.
Cameras are reportedly set to start rolling sometime in March, and we'll let you know what we hear about a likely release date and any other news from Arrakis.
Shai Hulud.