M3GAN Screenwriter Aimed to Reinstate Campy Horror
The writer behind the smash horror hit M3GAN discusses her love for campy scares and offering an alternative to 'elevated horror'
---
M3GAN is a certified hit, with a ton of social media discussion (that cover of "Titanium," though), officially earning more than $100 million at the box office and the fast confirmation that a sequel titled M3GAN 2.0 is already in the works. So, it's obviously the AI-themed era of M3gan, and we're just along for the devilishly good ride.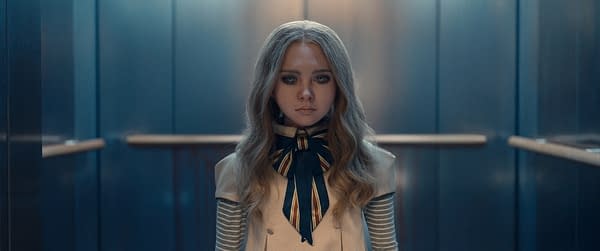 Despite its success, the mass transition into elevated horror (think arthouse drama with horror genre detailing), the sub-genre become a reliable occurrence in Hollywood with titles like Midsommar or even the fresh Candyman revival; however, there's always a need for some of the less serious influences that make the genre so versatile. During an interview with M3GAN screenwriter Akela Cooper and Vogue, the AI-doll scribe opened up about her very own campy horror aspirations and making that outlandish energy an important part of the film's DNA.
M3GAN: An Alternative to 'Elevated Horror'
She explains, "Personally, I enjoy a good B-movie that knows it's a B-movie and delivers to the viewer what it promised. And so, to me, M3GAN is a fun horror film about a doll killing people. That is what you are paying your money to see. We do kind of have a theme of A.I. and human interaction and parental control, but at the end of the day, this is a movie about a four-foot doll that murders people. I think this is a fun B- horror movie, and I am happy to be a part of that."
Cooper then goes on to discuss the status of 'elevated horror' and ideally offering viewers' a fun alternative, adding, "I don't want to shit on elevated horror. Hereditary is one of my favorite films of the last decade, as is Get Out, but once Hollywood latches onto something, that's all they tend to produce. I am happy to be aiding in the fact that fun, B-horror movies are coming back. I'm a baby of the '80s and a child of the '90s: Those are my jams."
Cooper clearly has her finger on the pulse of fun genre stories, so we're very excited to see what she creates next!