Men in Black: International – MiB Goes Global to Save the Universe (TRAILER)
So maybe Sony Pictures isn't aiming for it to be the equivalent of a staring contest with a neuralyzer, but the first trailer for spin-off ("reboot" doesn't feel quire right) film Men in Black: International wants fans to know that the franchise is going in a new direction – and going global, too! Directed by F. Gary Gray (Straight Outta Compton, Fate of the Furious) from a screenplay by Art Marcum and Matt Holloway (Iron Man), the film stars Chris Hemsworth and Tessa Thompson as two new lead agents who come up against a mole inside MiB.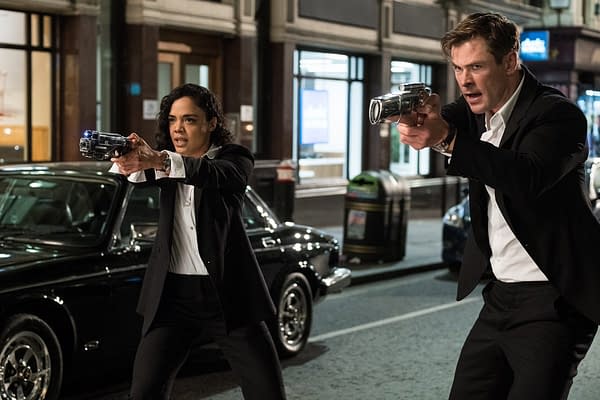 While wise to not separate itself from the original money-making franchise (Emma Thompson's Agent O from Men in Black 3 returns and there are several references to the previous films), the vibe of the Men in Black: International trailer gives the franchise both a global and universal feel to it. The chemistry between Hemsworth and Thompson is clearly on display in what we see below – but will it be strong enough to reignite the franchise?
Here's your first official look at Sony Pictures' Men in Black: International:
The Men in Black have always protected the Earth from the scum of the universe. In this new adventure, they tackle their biggest, most global threat to date: a mole in the Men in Black organization.
Set to enter a very crowded Summer 2019 movie season on June 14, Men in Black: International also stars Rebecca Ferguson, Kumail Najiani, Rafe Spall, Laurent Bourgeois, Larry Bourgeois, and Liam Neeson. Original director Barry Sonnenfeld and Steven Spielberg will serve as executive producers.