Mignola Says The Hellboy Reboot Will Be "Close To A Horror Film"
The Hellboy reboot continues to move along as it slowly adds more people to the cast. Since the first two movies are cult classic Hellboy creator Mike Mignola has been trying to convince people to give the movie a chance. In a new interview with Newsarama Mignola discloses so more information about the reboot, talks about his role in the production, and what kind of movie this reboot is going to be. The first thing Mignola confirmed is that the Bureau for Paranormal Research and Defense and or B.P.R.D. will have a role in this version of Hellboy. However, don't expect the agency to play a large role.
"The B.P.R.D. figures into the movie. I don't want to say who is and who isn't in the movie," Mignola said. "I think it's fair to say, however, that the primary focus is Hellboy and not a B.P.R.D. team movie."
Next, Mignola once again pointed how that he's a rather passive player in this production compared to the previous Del Toro movies.
"I was super involved Guillermo del Toro's movies way more than this one," said Mignola. "In those I worked in pre-production and I was on set a lot of the time. As time went on, he and I had different idea on what should happen. And this new movie, I don't have much hands-on involvement. I'm not doing any concept art. I am doing consulting, but I think from day one in discussions about the look and feel of this new movie, the director seems to be very much closer to the tone of the vision I wanted it to be."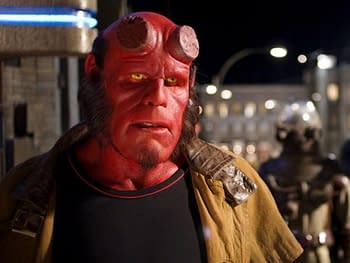 From what it sounds like Mignola feels that the vision he has is aligned with the vision director Neil Marshall has so he's taking a step back. Marshall isn't straying from his roots in the horror genre as Mignola has said that this reboot will be much darker.
"Where Hellboy II: The Golden Army was a light fantasy film, this will be very much darker – close to a horror film," said Mignola. "I've met some people doing pre-production, and I visit the person doing the creature effects. I'm very happy with what I've seen so far: I give them my two cents, then get out of the way. But I'm very happy they're asking my opinion, and giving me opportunities to solve certain creative problems."
Hellboy, directed by Neil Marshall, will star David Harbor, Milla Jovovich and Ian McShane. It currently has a 2018 release date.