Warning labels exist because at some point, somewhere, someone did something really stupid and now we have to suffer the aftermath of their choices.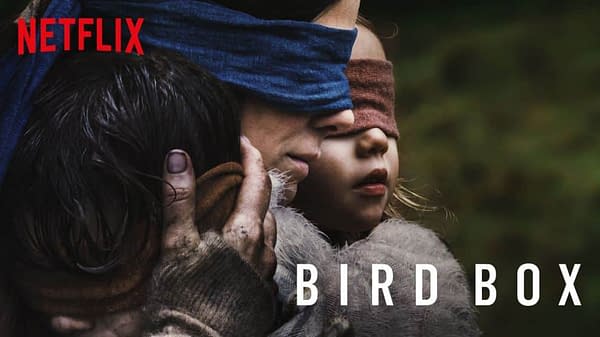 Its' kind of happening right now with Netflix's Bird Box film starring Sandra Bullock, because SOME PEOPLE are doing whats being called "The Bird Box Challenge", where people are going through their everyday lives blindfolded as if they were in the movie. The problem is, some challenge-doers are including their children in the madness, and there is the very real possibility of people getting hurt.
So much so that Netflix had to issue a statement cautioning against the challenge:
Can't believe I have to say this, but: PLEASE DO NOT HURT YOURSELVES WITH THIS BIRD BOX CHALLENGE. We don't know how this started, and we appreciate the love, but Boy and Girl have just one wish for 2019 and it is that you not end up in the hospital due to memes.

— Netflix US (@netflix) January 2, 2019
The film has received widely varied reviews- some viewers really enjoyed the suspenseful supernatural thriller, and others hated it. And of course, because people don't know how to do research- calls that the film copied A Quiet Place, even though Josh Malerman's source novel was published in 2014. You know, YEARS before Jon Krasinski and his wife Emily Blunt starred in their "speak-no-evil" aliens film.
In any case, if you absolutely HAVE to try out The Bird Box Challenge (which we strongly caution against doing), don't be dumb about it.
Bird Box is currently available to stream on Netflix.
Enjoyed this article? Share it!