Neve Campbell Talks "Scream 5" Rumors at Steel City Con
When you hear the term 'scream queen" many horror veterans come to mind, but one of the most notable is none other than Scream star Neve Campbell. Campbell has portrayed the character of Sidney Prescott for four films, solidifying herself as a genuine genre icon and there will always be a desire for her to return.
After the recent conversations about Scream 5 being in development with Spyglass, there was a hopeful buzz around the idea of the original cast returning for another face-off with the infamous Ghostface slasher villain. During an appearance at Steel City Con in Monroeville, Campbell was asked about the chance of returning to Scream for the rumored fifth film and she seemed to have more optimism than the last time she spoke about the subject last year. Campbell explained:
"All I know is as much as everybody knows, which is that they made an announcement that they're going to make it, but no one has called me, so, who knows." Later adding, "I'd be really curious to see who they're thinking of having direct it, that would be a really big piece, obviously, and then what the intentions are with the characters. Is it in keeping with the last films?"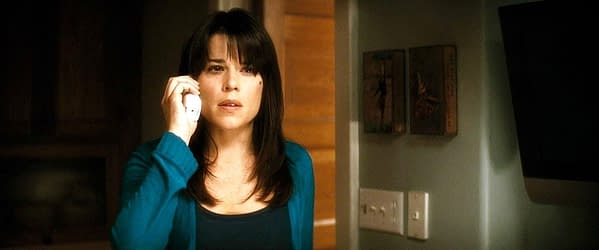 In the past, Campbell has seemed simultaneously interested and concerned about the future of Scream 5 since the passing of horror mastermind Wes Craven in 2015, but this comment seems to imply that she hasn't shut the door on Scream completely. After the outcry of fans hoping to see the return of Sidney Prescott, it would be an unfortunate turn of events to create another film without the woman whose life is so involved in the origin of Scream.
For now, we'll have to wait and see if Campbell or any other cast additions are included as talks progress, but we will continue to cross our fingers for the chance to see her return to Scream yet again.