New Image from "Maleficent: Mistress of Evil" and Grappling with "Aurora Moving Out"
Disney made a surprising killing back in 2014 when they released Maleficent. The live-action retelling of the Sleeping Beauty story was arguably one of the reasons that we are getting all of the live-action remakes today. The movie made over $750 at the worldwide box office and Disney has been talking about a sequel for years. This year we are finally getting one and USA Today has a new image and director Joachim Rønning giving us a hint about the dynamic that we can expect.
"Aurora is basically moving out. That's something I and a lot of parents can relate to," says Ronning, adding that Pfeiffer is one of the few people who can "hold their own" against Jolie, "especially when she puts on the horns."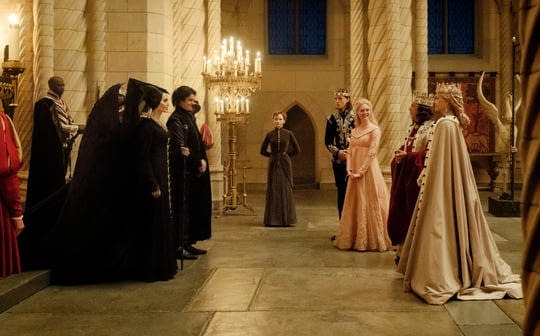 If there is one thing that is going to make this movie a lot of fun it's going to be seeing Angelina Jolie and Michelle Pfeiffer try to out "Queen Bitch" each other. These are two ladies that can operate on an entirely different level so seeing how they play off of each other when they are both trying to be more camp than the other should be a ton of fun to watch.
Summary: The complex relationship of Maleficent and Aurora continues to be explored as they face new threats to the magical land of the Moors.
Maleficent: Mistress of Evil, directed by Joachim Rønning, stars Angelina Jolie, Elle Fanning, Ed Skrein, Michelle Pfeiffer, Chiwetel Ejiofor, and Jenn Murray. It will be released on October 18, 2019.