When MGM released the first trailer for Eli Roth's remake of Death Wish starring Bruce Willis back in August, Bleeding Cool's Kaitlyn Booth said that the trailer "couldn't be more generic," referred to the film as "a blatant cash grab," and said:
"Perhaps this trailer is just poorly cut together, but everything from the plot to the action scenes even to casting Bruce Willis feels like checking off boxes on the action movie checklist."
It looks like MGM took that criticism to heart, going in a different direction for the film's second official trailer.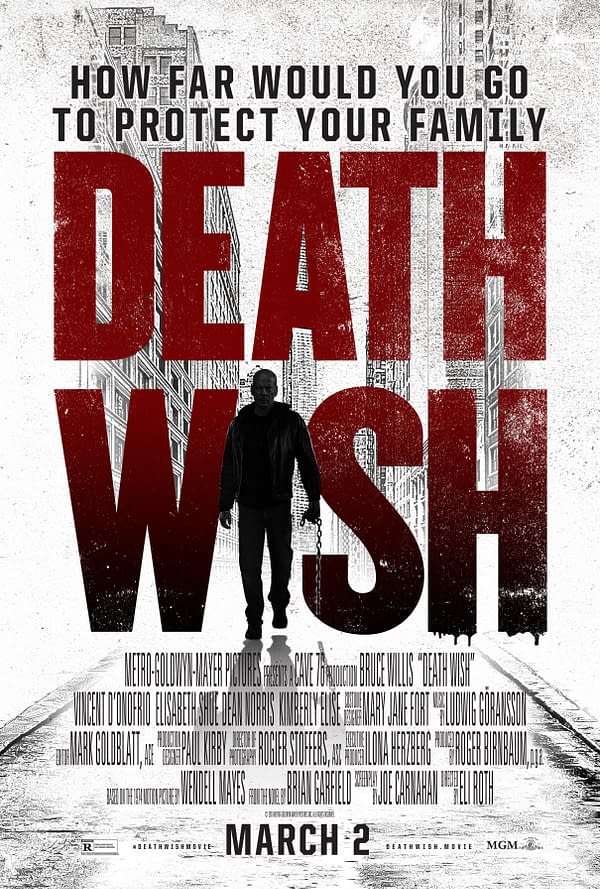 "The U.S. is home to 125 million families," the trailer informs viewers alongside clips of Willis and his family from the film. Well, isn't that nice…
"1 in 4 will become victims of a crime," it continues, flashing an image of a knife before adding, "What if your family was next?"
The trailer then shows a terrifying home invasion that ends with Willis's wife being gunned down.
That's the premise of Death Wish, of course. The killing of Willis's wife and the inability of the system to do anything about it turns him into a killing machine doling out vigilante justice on the streets. With guns. The first 60 seconds of the trailer could easily run as a pro-NRA political add come election season. "If a man really wants to protect what's his," an unseen character tells Willis, "he has to do it for himself."
"How far is too far for justice?" the trailer asks, though we already know the answer. This is Death Wish, after all. Too far isn't far enough.
You might think we're being critical of the trailer, but actually, we're pretty hyped to see this movie when it releases on March 2nd after watching it. We are American, after all.
Check out the new trailer below (and the new poster above):
Enjoyed this article? Share it!