Renfield: Nicolas Cage's Love For His Craft Made His Co-Star Emotional
Brandon Scott Jones says that the passion and joy that Nicolas Cage had on the set of Renfield made him "a little emotional."
---
The other day, we finally got our first look at Renfield and all of the insanity that will come with it. We were excited about this movie when we heard that Nicolas Cage would be Dracula. Our expectations have only gone up since we saw those sneak peeks of his look from set photos and now officially released stuff from the trailer last week. The movie is still a few months away, so there are still more details and more to come, but we did get to see some hints of what we can expect, including the titular Renfield [Nicholas Hoult] going to a support group to talk about his "co-dependent toxic relationship" which is certainly one way of putting it. Brandon Scott Jones plays the head of that group, and while he doesn't have s massive role in the film, he does have some things to share with Collider. That included getting to see, in person, the infamous love, passion, and excitement that Cage puts into every role that he does and how it was emotional for Jones to be around that kind of energy.
"One of the biggest takeaways I had, when I came home from shooting that movie, was Nicolas Cage has been in 14,000 movies. He's been acting forever. He's one of the best. He's so, so good," Jones explained. "And there's this maybe cynical side of yourself that you don't even know exists — and when I say yourself, I'm kind of talking about myself — where you kind of assume that maybe they're just sort of going on autopilot or whatever. And I watched this man come in to work, sit in the make-up trailer, get all made up as Dracula, and then show up on set and was so excited, and so — oh my god, I almost got a little emotional because it was really moving to see someone love the craft so much. And he had these really funny moments where I remember him being like, 'Wait, wait, I just want to try something really quick,' and then he would just make a facial expression into the camera just so they could have it."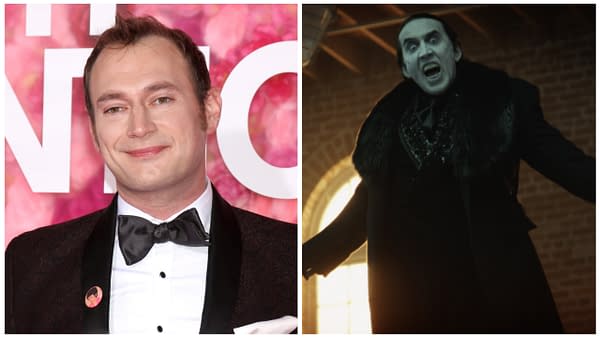 If just being around Cage and taking in that energy wasn't enough, Jones went on to say that in the limited amount of time he got to spend with Cage and on the set of Renfield, Cage pitched him a line and explained that Cage "looked like he was having a blast."
"He pitched me a line. He was like, 'Whoa, whoa, whoa. Wait, wait. I got an idea; I got an idea. Say this!'" Jones continued, "He pitched me a line, a joke to say, and it was really, really cool just to see him so in it and fun and having the time of his life." Jones wrapped up by noting, "It looked like he was having a blast, and it was a blast to be around it, too."
It is true that being around someone that is clearly enjoying what they are doing on a completely different level from anything you've witnessed before can be extremely moving. It's a reminder that sometimes people are really that lucky and get that much joy out of their jobs. This isn't even uncommon from Cage, who has gone on the record to say that he hasn't even phoned anything in. Cage is a man who loves acting and loves what he does, and it sounds like that love was just as joyous to watch on the Renfield set as it was on any other set he has been on.
Renfield: Summary, Cast List, Release Date
Evil doesn't span eternity without a little help. In this modern monster tale of Dracula's loyal servant, Nicholas Hoult (Mad Max: Fury Road, X-Men franchise) stars as Renfield, the tortured aide to history's most narcissistic boss, Dracula (Oscar® winner Nicolas Cage). Renfield is forced to procure his master's prey and do his every bidding, no matter how debased. But now, after centuries of servitude, Renfield is ready to see if there's a life outside the shadow of The Prince of Darkness. If only he can figure out how to end his codependency.
Renfield is directed by Chris McKay (The Tomorrow War, The LEGO Batman Movie) from a screenplay by Ryan Ridley (Ghosted series, Rick & Morty series), based on an original idea by The Walking Dead and Invincible creator Robert Kirkman. The film co-stars Awkwafina (The Farewell, Marvel's Shang-Chi and the Legend of Ten Rings), Ben Schwartz (Sonic, The Afterparty), and Adrian Martinez (The Secret Life of Walter Mitty, Focus). Renfield is produced by Skybound Entertainment partners Robert Kirkman and David Alpert (The Walking Dead, Invincible), co-presidents Bryan Furst (Daybreakers) and Sean Furst (Daybreakers), and by Chris McKay. McKay's producing partner Samantha Nisenboim (co-producer, The Tomorrow War) will executive produce. It will be released on April 14th, 2023.